Chapter FOURTEEN


SIXTH GENERATION:- or seventh in line.

DOMINY, HORACE, Born December 10, 1849. Madison County, Ohio. Died November 19, 1932. Long Beach, California. Age 83 years. MARRIED:- In 1880 to CALLA MAY MOCK., Born July 10, 1847. Franklin County, Ohio. Died April 19, 1927. Long Beach, California. Age 80 years. CHILDREN:- PEARL, Born June 8, 1888. Married John A. Conners.

RESIDENT:- Washington Township, Franklin County, Hilliards, Ohio. Plain City, Madison County, Ohio. Removed to Anthony, Harper County, Kansas. Later to Long Beach, Los Angeles County, California.

Horace was born in Canaan Township, Madison County, Ohio. In his boyhood days, he moved with his parents, who had purchased the Elrick and Kidwell farms of 220 acres' located in Washington Township, Franklin County, Ohio.

He completed his education in the common school, known as Sub-District No. 6 located on his father's farm. After his marriage to Calla May, daughter of Mr. and Mrs. Samuel and Mary Mock, they pioneered and home-steaded in the State of Minnesota in 1882, only to remain there for a few years.

How well do I remember a story told by Father Mock, when they returned to Ohio. He said, "The summers not bad, but short and sweet; But, OH! jiminey-crickets those winters. We had to build double doors and windows to keep the snow and cold out. Our barn had to be large enough to put in all the stock, if not the wolves would eat them alive.

"One cold stormy night, it has been snowing and blowing for a week. The snow was drifted around the house, above the window sills. OH! OH! Those howling wolves, would give you the creeps! Running around and around the house, stopping and looking in the windows, skinning their teeth, just to make you feel as if they would like to make you up into mince meat."

Their return back to Ohio, their native state, was only for a short stay. Then Father and Mother Mock migrated to Kansas in 1885., where he staked their claim as Home-steaders for he and his son-in-law near Anthony, Harper County, Kansas, in the Sun Flower State.

There he remained until after the death of his wife's parents, about the year 1905. lie disposed of their holdings, as his wife had taken their daughter (pearl) to Long Beach, California for her health as the hot winds and dust were becoming a menace to southern Kansas. They had been warned of the break-up of this vast grazing prairie to their south-west and west - where once the "Buffalo" roamed at his will.

He then went to his wife and daughter at Long Beach, where he followed his trade as a building carpenter until 1925. He had the misfortune in the loss of one of his legs by a disease, which caused him to be an invalid and use a wheel chair the remainder of his life.


SEVENTH GENERATION:- or eighth in line.

DOMINY, PEARL, Born June 8, 1888, Anthony, Kansas. MARRIED:- February 14, 1925 to JOHN A. CONNERS, Born November 5, 1892. CHILDREN:- LAURA MAY, Born May 21, 1926, Married Byron D. Jones.

RESIDENT:- 556 Chestnut Avenue, Long Beach, California.

Pearl relates that there are no records among her mother's papers, bur that her schooling was limited, not having started until she was nine years old. She wrote a cousin in the State of Washington to see if her mother's brother's family had any records, but her cousin stated that all such papers and Bible records were destroyed by a fire in 1900.

As life goes along, the time (dates) of happenings do not seem to be important. So when we start to check up years later on our past, it seems impossible that it is so much later than we think. Right?


EIGHTH GENERATION:- or ninth in line.

CONNERS, LAURA MAY, Born May 21, 1926. Long Beach, California. MARRIED:- January 10, 1946 to BRYAN D. JONES. CHILDREN:- MARCIA ALANE. Born December 25, 1946. Long Beach. MARK ALAN, Born May 26, 1951. Long Beach, California.

MILITARY SERVICE:-In the United States Marines, during Second World War. (All data received)

RESIDENT:- Long Beach, California.

- THE FAMILY HISTORY -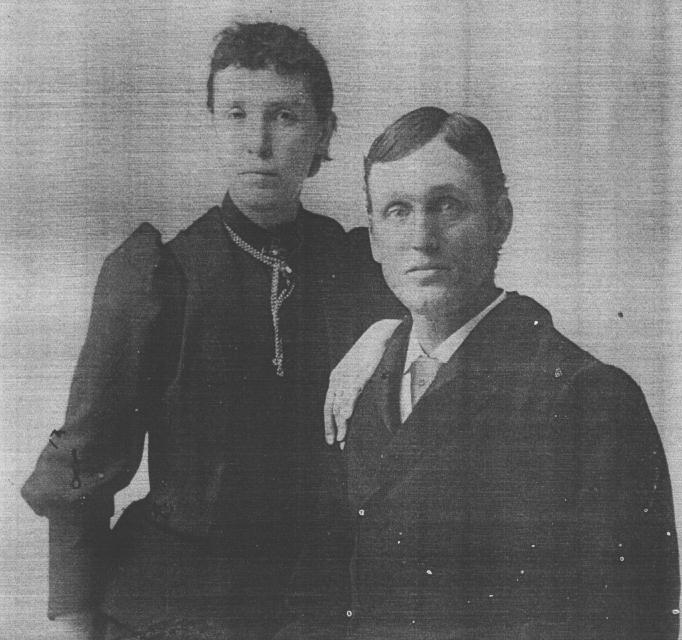 WILLIAM HENRY DOMINY AND MARY EMMA NEFF.
THE LAST OF HENRY (4's) FAMILY