CHAPTER FIVE
DOMINY'S FAMILY HISTORY
To Our Beloved Children, Grand-Children (Sons and Daughters), and Great-Grand-Children (Sons and Daughters) and all Relation wherever you are!
This history is dedicated to your grandfather HENRY (4), grandson of HENRY (1), son of NATHANIEL (2), being endowed as they were, that we bear the family name, and carry it to the future generations, as it has been brought down through three centuries of generations gone.
What I have worked out in reference to our family genealogy was received from my Grandfather HENRY (4), and from various state historical societies, The New York State, The New England Historical, The Massachusetts State and the Connecticut State Libraries. They state that the DOMINY family is of Irish Origin, that they left Ireland, going to England, but do not give the Irish birth place, thence coming to America long before 1700, and that there were three brothers.
The following, taken from E. P. Hodges, History of East Hampton, New York, 1897: "At a very early day, long before 1700, the DOMINY family came to East Hampton; their origin was Irish, their character positive, their genious inventive."
The first ancestors are reported to have died young; which reveals to me that there must have been some earlier history or this statement could not have been made relative to our family.
Also quoting from William R. Cutter, Genealogical and Family Historian, Northern New York, 1910: "Three brothers of this name emigrated from England early in the 17th century. One settled in New Jersey; one on the west side of Long Island; and the third, whose Christian name was NATHANIEL, became a resident of East Hampton, Long Island, New York.
Of Irish origin, their character has been positive, and their genious for invention has long prevailed in the family, as attested by patent office records.
I took our family history up with the American Irish Historical Society, New York City, New York, with reference to our Irish origin. I received a reply stating that they have no records of our family, and that they are well acquainted with Irish names and never heard of the name nearer than the Domigan, Domville, and Dominich families in Ireland, giving the following books investigated: WOULFE'S - "Irish Names and Surnames," O. HART - Pedigrees, JOURNALS - of the Royal Society of Antiquannies, INDEX TO JOURNALS - of the society for the Preservation of Memorials to the Dead, VICARS - Index to Prerogative Wills - Ireland, BORING GOULD and WAKLEY - gives nothing, BARBER - gives "DOMINY" name place. If we had and indication of from what part of Ireland they came, I would look up local history for them.
Quoting from W.V. Munsell and Company, 36 Vesey Street, New York City, New York, 1882, History of Suffolk County, Long Island, New York: "In the spring of 1648, Theophilis Eaton, the Governor of New Haven, and Edward Hopkins, Governor of Connecticut, obtained a deed for that portion of the town west of Montonk." and "Tradition well supported by known facts, asserts that most of the early settlers came from Maidstone, Shire Town of Kent, England. In fond rememberance of their native village, they gave its name to the new settlement. This name altho never judicially or legally sanctioned, was used incidentally as the name of the place for at least forty years, and persons in writing deeds and wills, seems to have clung to the old from individual choice."
I have always understood that the DOMINS came from Maidstone, Kent, first to Massachusetts or Connecticut, than to the founding of Maidstone, now known as East Hampton, Long Island, New York. From the same reference, it shows that September ye 8, 1683, the estimate of East Hampton gives the list of 71 names, presumably the heads of families, and among them we find: NATHANIEL DOMINY - Listed for Taxation 1683, 1 head, 13 land, 2 oxen, 4 cattle, 3 horses, 1 swine, 3 sheep, 71 pounds and 12 shillings. His wealth at that day, based upon our present day rate of exchange would be 8357.66 in United States Money.
The muster roll of Captain Ezekiel Mulford Company, in Josiah Smith Regiment, etc., time of Enlistment, July 26, 1776, 13 Company, 1st Regiment of Minute Men, gives the name of HENRY DOMINY, Yoeman. It also shows that Nathaniel Dominy was a surveyor for the village of East Hampton, from 1777 to 1779, and Felix, a grandson, held the same position from 1834 to 1835.
East Hampton is one of the most beautiful villages in the country; the Main Street is 10 rods (165 feet) wide, with two rods of stately elms on each side, planted centuries ago, giving it a most picturesque appearance.
Cousin Clarence Dominy of Blue Point, Long Island, New York, told me the five oldest houses now standing, built from 1650 to 1655, were the Gray House, Stratten House, Baker House, now called John Howard Payne House, and the Dominy house. The Dominy House is still occupied and owned by Charles Dominy. The blacksmith - carpenter shop, and the clock making shop are still there as part of the building, with tools, lathes and fireplaces that have stood for all these years. No doubt it is the most completely equipped pioneer resident in the United States today.
The Dominy house at Bay Shore, Long Island, is in no sense a family relic. It was bought by Nathaniel in 1861, and it had been operated as a hotel up till last year, when it gave way to a more modern structure by the family. During the 1870's, 1880's and 1890's it was well known and famous for the superiority of its foods and was patronized by many of the most prominent people in the country, Teddy Roosevelt being one of its regular visitors.
The family burying grounds was formerly at Three Mile Harbor, a short distance from East Hampton, but the bodies were all removed in 1891 by Nathaniel (7). They now rest at Lilley Hill, East Hampton, this cemetery owned by the Dominy's of East Hampton. They have a diagram showing where they all rest, there being no markers or stones used, as some have been at rest more than a century.
I am submitting the Bible records of Cousin Clarence Dominy to support our descendancy from the original NATHANIEL DOMINY, of Maidstone, Shire Town of Kent, England.
NATHANIEL DOMINY (2), born July 14, 1684, was married November 24, 1706 to ANNA CORY, who was born February 8, 1678 and died August 8, 1748, at 70 years of age. He died on May 5, 1768, in ye 84th year of his age.
HIS CHILDREN: - MARY, born Monday, October 20, 1707. ANNA, born Tuesday March 14, 1710. PHOEBE, born Friday, February 11, 1712. NATHANIEL, born Friday, December 3, 1714. JOHN, born May 6, 1716, died May 3, 1751 at the age of 35. LYDA, born April 18, 1718, died March 6, 1721, age 3 years. He had two servants - CUFFE, born December 9, 1742 and GEENE, born April 6, 1746, she died April 7, 1815, age 69.
NATHANIEL DOMINY (3) Jr., born December 3, 1714, Friday, Birthday new style, December 14, 1714. Died March 30, 1778 in his 64th year of age. ELIZABETH EYERS, his wife, born April 9, 1717, on Friday, Birthday new style, April 20, 1717. She died September 1, 1781 in her 85th year. HIS CHILDREN: NATHANIEL, born July 25, 1737 on Monday, new style August 5, 1737. Died October 23, 1813, age 76. WILLIAM, born July 1, 1739 on Sunday, New Style July 12, 1739. Died December 10, 1769, age 30. ELIZABETH, born October 6, 1741 on Tuesday. Died August 20,1752, age 10. DEBORAH, born August 5, 1744 on Sunday, new style August 16, 1744. Died May 20, 1806, age 62. Married to Jesse King. HENRY (1), born December 15, 1746 on Monday, new style December 26, 1746. Died January 23, 1817, age 79 years. Married to Elizabeth Dayton. ELIZABETH (3), born September 16, 1752, new style, on Saturday. Died March 17, 1802, age 49. Married a Mr. Tuthill. MARY and ANNE - TWINS, born April 2, 1755 on Wednesday. MARY, died the 12th of the same month, age 15 days. ANNE died on the 13th day of December 1788, age 33. She married a Mr. Peck. JOHN, born December 31, 1760 on Wednesday, moved to Beekmantown in 1796, died February 21, 1837, age 76 years, 1 months, 16 days.
NATHANIEL DOMINY (4), born July 25, 1737, married HANNAH BAKER on November 28, 1759, who was born July 27, 1740, new style August 5, 1740. She died on Sunday morning about 4 o'clock, the 10th day of February, 1811, age 71 years. He died on Saturday evening about half past nine, the 23rd day of October 1813, age 77 years. HIS CHILDREN: - HANNAH, born October 8, 1769 on Wednesday. Died July 7, 1815, age 55 years. Married to Isaac Conklin of Canoe Place. MARY, born August 1, 1763. Died November 19, 1763, 3 months, 18 days. URANIA, born April 18, 1765. Died February 15, 1837, age 72 years, married Elnathen Parsons. LEAH, born August 30, 1767. Died May 13, 1851 age 54 years. Married Edward Jones at the town of Meredith, Delaware County, New York. NATHANIEL (5), born January 16, 1770. Died May 29, 1852, age 82. PHOEBE, born January 12, 1774. Died April 13, 1822, age 49 years, married Lewis Conklin. CLARA, born October 17, 1778, died March 15, 1854, age 76 years.
NATHANIEL DOMINY (5), born January 16, 1770. Died May 29, 1852, age 82 years. Married TEMPERENCE MILLER in 1795. Born October 30, 1774. Died January 15, 1849, age 75 years. HIS CHILDREN: - JOHN, born October 23, 1795. Died in 1891 (Hawaiian Islands). NANCY, born November 15, 1797. Date of death not given. FELIX, born February 12,1800. Died December 20, 1868, age 68 years.
FELIX DOMINY, born February 12, 1800. Died December 20, 1868. Married to PHOEBE MILLER, October 26, 1826, born April 24, 1807. Died April 22, 1891, age 84 years, at Seabright, New Jersey. Buried at East Hampton, Long Island, New Yak. HIS CHILDREN: - NATHANIEL (6), born July 28, 1827. Died June 10, 1910, age 83 years, married to SYBIL MULFORD. JERUSHA B. born July 10, 1835, died October 25, 1857, age 22 years, married Samuel Hules. MARY, born January 16, 1840. Died October 10, 1915, age 75 years. ARTHUR (1), born July 2, 1841, died December 27, 1918, age 77. NED, Born September 6, 1846. Died September 6, 1927, age 81 years.
ARTHUR DOMINY (1), born July 2, 1841. Died December 27, 1918, age 77 years. Married to ANTONIETTE SENDECOR, April 24, 1877. Born August 18, 1849. HIS CHILDREN: - FREDERICK A., born August 13, 1880. CLARENCE (1), born June 28, 1882.
We owe Clarence Dominy (1) of Blue Point, Long Island, New York, a gratitude of love for the consideration he has shown in establishing our descendancy from the original NATHANIEL DOMINY of East Hampton, Long Island, New York, in 1684.
He also relates that he has no knowledge of the origin of the family, that, it seems clear from tradition well founded, that they came from Maidstone, Shire Town of Kent, England and the following are the names of some of the first settlers of East Hampton to wit: John Hand, Thomas Talmage, Daniel Howe, James Stratten, Robert Bond, Josus Barnes, Ralph Dayton, and John Mulford, of which NATHANIEL DOMINY was among them. There certainly isn't anything Irish about those names.
When I was a representative of the State Department of Industrial Relations of Ohio and traveling extensively over the state, on learning my name, and when spelling it for them, they would remark that it was of Dutch origin. "No sir, it is Irish." It might possibly be Dutch, as my ancestors came from New York State, as it was settled by the Dutch.
I was once coming from Cleveland to Columbus by train, which stopped at Akron for passengers. The train being crowded, about a dozen or more Italians came into the smoker. The train had not gone far when on hearing my name called back of me, I got up, went to see who it was and what they wanted. "Were you gentlemen calling me?" I asked. "No," they said, "we were calling that Dago in front of you!" "Well," I replied, "here is my card - that's my name. The others came back.
I told them that centuries ago it was spelled DOMINIE, DOMONIE, DOMINS. They said, there are three brothers here who spelled their name DOMONOIE. "How tall are you - boy?" I said, "six feet, one inch." They all laughed - saying "sheemy, whooey, you have grown since you left Italy!"
I am rather of the opinion from what I can learn from the spelling of the name and meaning that it be English, and of ROMAN origin, as the DOWNY is derived from the Latin word "DOMINUS" meaning Lord, "DOMINI" in genative meaning, of the Lord, "DOMINIE" meaning master, and "DOMINS" meaning rule.
I am attempting to establish a right to a Coat-of-arms or Crest for the family. It must be remembered that persons bear the same name, and that to determine from which noble family a given individual is descended, that information must be available. It is first necessary to know what branch or house of the family bore the Coat-of-arms or Crest, and the country where they lived, or first came, before is can be identified.
It would be an outstanding contribution to the American history if the fathers of every family would or could provide each of his children with an accurate account of his family as far back as he can establish these facts.
I am going to use NATHANIEL DOMINY who was born on July 14, 1684 as the first Dominy of record, as the Christian names before that date are not definitely known to me and others. As far as I have been able to determine the name NATHANIEL could have been one of the three brothers from the known lineage in the run of names in our family, because the NATHANIEL born in 1684 could not have owned property in 1683 for taxation.
I take it for granted from tradition well established, one of the three brothers was NATHANIEL, and possibly well founded is that the other two names were either John, William, Henry or Jeremiah.
The records of our Grandfather HENRY (4) are incomplete when you compare them to other records, because, the records of his father, JEREMIAH (1) family Bible was destroyed by fire in 1830. This happened in the night time in January with two feet of snow on the ground. They were forced to flee by taking the children out the window of their log cabin in their night clothes and travel three miles in the snow to their nearest neighbors.

I received the names of the following children and marriages too: Henry Dominy - married Charity Hubbord. William Dominy - married Catherine Stafford. Ezra Dominy - married Rhoda Smith. Elizabeth Dominy - married Dr. Sharp McFadden. Phoebe Dominy - married John Gaile. Nancy Dominy - married Samuel Flint. Mary Ann Dominy - married Joshua Boswith. JEREMIAH DOMINY - married ABAGAIL NORTON.
These were given me by grandfather HENRY (4), just as I have them listed, I will try to place these children correctly. I have made a careful study of the records received from grandfather, and compared them with cousin Clarence's, and others that could be obtained, such as the New York State Library and other historical societies. Given as my placement of the children of Nathaniel (2), Henry (2) ,and Henry (1), there seems to have been an error by some historians in their proper placement, and also the children listed. Our family genealogy will run in three lines as far as I have been able to establish: TO WIT:
First - The Original or the Long Island Branch of the family.

Second - The Beekmantown, Clinton County Branch of the family.

Third - The Ohio Branch, Madison and Franklin Counties families.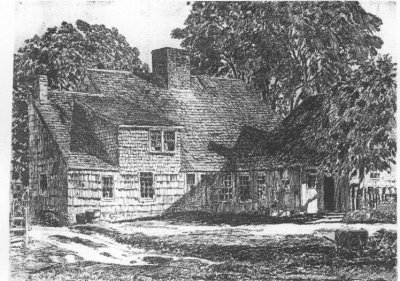 FROM THE HALF-TONE COPPER PLATE REPRODUCTION.