CHAPTER ONE
To our dear beloved daughters, their children, their children's children, uncles, aunts, nieces, nephews and cousins, for all of you, where-so-ever ye may be...
WE SEND GREETINGS!
We speak of the grandeur in pleasure, that we can be able to give you this interesting account of our family ties.
It has taken more than twenty years in my reminiscences, to gather this data from one source or another. Many of your distant relatives were good enough to assist in this, my undertaking, so we may know something about our ancestral origin.
We will begin this memoir - the starting point for us, as it appears to me, in these United States of America, It will tend to show what part our family might have had in the formation of this, our great and glorious Republic - for what it stands as it appears to us today.
It will tend to show that our ancestors did contribute in their feeble way, to the establishment of our Democracy today.
We'll start by quoting from an address delivered on the 26th day of December 1848, celebrating the two hundredth anniversary of the settlement of East Hampton, Long Island, New York, at the correctors office, Sag Harbor, Long Island, New York.
"We meet today as native of the same neighborhood, having enjoyed the same blessings, entertained the same early associations, indulged the same recollections.
"Being bound together by the same social ties, and descended from the same common ancestry, to celebrate the Second Centennial Anniversary of the settlement of this town.
"We are not unwilling to acknowledge our origin - we delight to honor the memory of our heroic fathers. "Our pious ancestors," who, "first planted religious civilization and refinement upon these shores."
"Base indeed were we, enjoying as we do the fruits of their toils and sacrifices, never in grateful remembrance and pay tribute of filial affection to those who so dearly purchased them for their descendants.
"It is a high and a holy sentiment of our nature which prompts us, amid all our wanderings, to revisit the home of our childhood, and look upon the graves of our fathers. Travel far as we may from the smiling abode of our infancy; remain as we may, for long years absent; and still this sentiment clings to us in all our wandering. It travels with us to the remote lands. It swells our bosom on the ocean wave. It triumphs over time and space. One after another the associations and early remembrances of our youth comes gushing upon the memory. We are overwhelmed by the tender recollections of our native land, and subdued by the emotions which our memory brings - we are irresistibly prompted to turn our footsteps to the home of our infancy and the land of our fathers. There, where we drew our first faint breath, we would breathe our last; and where our fathers are buried we desire our lifeless bodies to repose.
"It is a kindred, social sentiment which prompts us to inquire into our origin, to trace our ancestry, to commune in imagination with the spirits of our fathers, to recount their deeds, to celebrate their valor, honor their memory and profit by their example and experiences. Such considerations, we trust, have brought us together to this, our home, the land of our ventured fathers.
"History, we know, is very instructive in its lessons. The future to us is unknown and uncertain; but the past is forever fixed and unchangeable. We may speculate upon the future; each for himself may plan and arrange and build his superstructure according to his visionary anticipations.
"But whether that future shall rise in the shape and fair proportion on his visions or not, who can tell? But the past admits no change. Its realities remain unaffected by the present, unaltered by images of the future. There we rest upon the solid basis of experience, not upon illusions of the imagination.
"But history becomes doubly interesting to us when it relates the experiences of our individual ancestors; those whose blood flows in our veins; who reared the successive generations that lived and died until they at length gave us that life which had been transmitted to them.
"Under such revelations of history we feel our soul thrilling with interest in the relation of every incident of the past. We sympathize with our fathers. We feel the cold blast that sent its shivering power upon their venerable unsheltered heads.
"We feel the burning sun that poured its fierce, relentless rays upon them. We tremble for them amid their danger. We triumph with them in their success. We hope with them in their anticipation.. We lose our consciousness of the present. We seem to feel the spirit of the departed animating in our bosom, and we live in their experiences-almost say, "the soul of our fathers lives in us."
"Our ancestors were the Puritans of England. We can not doubt as to their character, their purpose, or their motives. England had just awoke from her religious slumbers. The principles of civil and religious liberty were forcing their way upon the mind of the nation. The royal house of Tudor, of York and Lancaster had passed away. Kings were seen to be mortal. Their right to prescribe a religion for the people to be denied. Their Divine right to govern began to be doubted. Resistance to arbitrary imposition and authority was openly proclaimed. The right of the people to a constant representation in the government was asserted, and civil war rolled over the fair fields of their native England.
"Amid the strife of battle and the din of murderous conflict our fathers left their country -sought this unexplored, unsettled Western world- trusting here to hold unmolested their religion and their liberties, and transmit them to a peaceful, happy posterity in the wilds of their new abode.
"They left the age of John Hamden and Milton. Soon after their arrival came the news of the Royal overthrow. The same year they saw the triumph of liberty in Great Briton, and the consigned Charles Stewart, its monarch, to the block; and also the settlement of their native town.
"This town was purchased as far eastward as Montaok in 1648, by Theophlius Eaton, Governor of the Colony of New Haven, and Edward Hopkins, Governor of the Colony of Connecticut, for the benefit of the original settlers and was assigned to them by Eaton and Hopkins in the spring of 1651, in consideration of the sum of £30, 4s, 8d, sterling.
'The original deed, for the Town of East Hampton, April the 29th, 1648.
'This present writing testifieth an agreement between the worship'll Theophlius Eaton, Es9uire, Govenour of the Colony New Haven, and the worship'll Edward Hopkins, Esquire, Govenour of the Colony Connecticut, and their astoyate on the one part, and Poppataccut, Sachem of Manhansett, Wayandanch, Sachem Meuntacut, Momowetow, Sachem of Corchake, Nowedonah, Sachem of Shinecoke, and their asotyats, the other part.
'The said Sachem having sould unto the foresaid Mr. Eaton and Mr. Hopkins, with their asotyats, all the said Land lying from the bounds of the Inhabitants of Southhampton, unto the East side of Napeak, next unto Meuntacut High Land, with the whole breadth from Sea to Sea, not Intrenching uppon any in breadth or length, the Inhabitants of Southhampton, have and do possess, as they by Lawfull right shall make appear.
'For in consideration of Twenty Coates, Twenty-four Hatchets, Twenty-four Knives, One hundred Mugs, allready Received by us, the forenamed Sachem, for ourselves and asotyats, and in consideration thereof, we doe give upp unto the said Purchasers, all rights and Interest in the said Land, to them and their heirs forever.
'Allsoe doe bind ourselves, to secure their right from any claims of any other, whether Indians, or other Nation whatsoever, that doe, or may hereafter, chalange interest therein. Allsoe, we, the said Sachems, have Covented to have Libertie, freely to fish in any or all cricks and Ponds and hunt up and down in the woods without Molestation, they giving the English Inhabitants noe just offence, or Injury to their goods and Chattels. Likewise, they are to have the fynns and tails of all such whales as shall be cast upp, to their proper right and desire they may bee dealt with in the other part.
'Allsoe, they reserve libertie to fish in all convenient places, for Shells to make Wampum. Allsoe, if the Indians, hunting of any deer, they should chase them into the water, and the English shall have the body, and the Sachem the skin.
'And in Testamony of our performance hereof, we have sett our hands, the Day and year above written.
Witnesses to this.
| | |
| --- | --- |
| Richard Woodhull. | The mark of Poggatacut, Monhansett Sachern. |
| Tho Stanton. | The mark of Wayandanch, Meantacutt Sachem. |
| Robert Bond. | he marke of Monoweta, Corchake Sachem. |
| Job Sayer. | The rnarke of Nowedonah, Shinecok Sachem. |
Chectanoo, X his marke, their Interpreter.
"The assignment to the Inhabitance of East-Hampton :
Whereas, by direction from Theophlius Eaton, Esq., and me Edward Hopkins, a purchase was made by Thomas Stanton and others, of a part of the Eastern Part of Long Island, of the Indians Sachem, the true proprietors thereof, in the name of Theophilus Eaton, Esq., afore-said, and myself, with our associates, as by said agreement, dated the 29th of April, 1648, may more fully appear, which said purchase was made by me, Edward Hopkins, and amounted to the Sum of Thirty pounds four shillings eight pence, as may appear by a note of Paticulars, under the hand of Thomas Stanton, to whom the said, sum was paid, now delivered to Robert Bond, of East-Hampton.
'This writing witnesseth that I have received the foremencined sum of Thirty pounds four shillings eight pence, of the Inhabitance of East-Hampton, and have delivered unto them the writings of said purchase, and all the interest that tereby was purchased.
'In witness whereof, 1 have hereuntosubscribed, the 16th of April, 1651.
| | | | | | | | |
| --- | --- | --- | --- | --- | --- | --- | --- |
| I say received, | | | £ | s | d | | |
| | | | 30 | 4 | 8 | | per me. |
A true copy per me, EDWARD HOPKINS
THOMAS TALMAGE, Recorder
"The antiquity and historic interest of the following deeds, will justify their insertion.
DEED OF 1660
'This Indenturem mad the first day of August, in the year of our Lord One thousand Six hundere and Sixtie, between the Old Sacham Squa, late wife of Wiandance, Deceased, and her son Wiancombone, Pogantone, Chekanow, Massaquet, Powhe and Gentlemen, the true and lawfull portion of the nect of Land Commonly known by the name of Meantauquit, on the Eastern end of Long Island, the one parties, and
'Mr. Thomas Baker, Mr. Robert Bond, Mr. Thomas James, Mr. Lion Gardner, Mr. John Mulford, and John Hand and Benjamine Price, of the Plantation of East-Hampton, on the Island aforesaid, the other parties. WITNESSETH, that the above-named Sacham Squa, together with her Son Wiancombone, Pogatone, Chekanow, Massaquet, Powhe and Gentleman, together with their associates, do by these presents, fully Confirm, hold Good, and firmly maintain and avouch the former contract or bargan, made between the aforesaid Wiandance and his associates, the one parties and the Inhabitants of the aforesaid East-Hampton, the other parties, and do by these presents acknowledge, to have fully and firmly sold, Alined, Enfeoffed and Confirmed, and allso do by these presents, fully, firmly, and absolutely give, grant, aliene, enfoff, Sell and Confirm, unto the aforesaid, Thomas Baker, Robert Bond, Thomas James, Lion Gardner, John Mulford, John Hand and Benjamine Price, together with their associates, all the aforesaid neck of Land, called Meantacuit, with all and Every part and parcel thereof, from Sea to Sea, from the utmost end of the Island, Eastward to the seaside, unto the Other End of the said Land, westward adjoining to the bounds of East-Hampton aforesaid, with all Singular its rights, privilages, members, Jarisdictions immunities, and appurtenances whatsoever, with Meadows, Woods, Stone, Cricks, Ponds, with whatsoever doth, or may grow upon or issue from the same, with all profits and Commodities by Sea and Land unto the aforesaid Inhabitants of East-Hampton, their heirs and assigns forever, to have and to hold, and from time to time forever, peaceably to enjoy Same, without Disturbance or Molestation from the aforesaid propritors or their Associates, Or any of their heirs or Assigns, or any other by their means, Consent, or Procurement, for the Consideration of One Hundred Pounds Sterling, to be well and truly paid in a manner as followeth, VIZ: that the aforesaid Thomas Baker, Robert Bond, Thomas James, Lion Gardner, John Mulford, John Hand, Benjamine Price, and their associates, the Inhabitants of East-Hampton.
'Do well and truly and duely pay unto the aforesaid Indians, their heirs and assigns, the full and Just Sum of Ten pounds sterling every year, either in Indian Corn, Or else in good Warmpumpeauge, at five penny, until the end of ten Years be Expired, and afterward to be wholly and fully freed from any further or future demand or demands forever; and furthermore, we, the aforesaid owners and proprietors of the aforesaid Land, for the full Confirmation of all Every of the premises, Do acknowledge, to have given peacable and quiet possession of the Land aforesaid, to the aforesaid purchasers, and in token hereof, have diged up a piece of said land, and delivered it as our act and Deed, into the hands of the Inhabitants of East-Hampton; and also acknowledge to have received the full Sum of ten bushels of Indian Corn, in part of payment of the first ten pounds; And in Witness of all and every of the Premises, we have Each Parties set too our hands seals, the day and year first above written. The Corn to be paid at 4s, a Bushel.
Signed by the marks under the seal, of WIANCOMBONE, SACHAM SQUA, and others, Parties of first part.
Sealed and Delivered in the presence of us RICHARD SHAW, The mark of JOHN.
"There were also other deeds executed by the Indians for the protection of the inhabitants of East-Hampton by further concession of their land. A deed dated at Easthampton, February 11th, Anno. Dom. 1661.
Signed by the marks of 'SUNK SQUA,' 'WINANKOMBONE SACHAM,' and nine other Indians, in behalf of the rest.
Sealed, Signed and Delivered in presence of us. EDWARD CODNER., and WILLIAM MILLER.
"By deed dated December 1,1670, reciting that they were bonded a bond to the commissioners of Francis Lovelace, Govenor, for the payment of four hundred bushels of Indian Corn, which has been forfited, and their Lands likewise been Mortgaged for payment of same, of which was One hundred pounds, upon the advice of "Worshipfull William Wells of Southold," one said commissioners, in consideration that Mr. John Mulford, Mr. Thomas James, Minister, Jeremiah Conkling, Inhabitants of East-Hampton, the Indians gave and conveyed to them certain Lands on Montauk.
"This deed was signed by 'MOUSUP SACHM,' CHEKANO, and seven others, including 'SUNK SQUA.'
"This deed was confirmed by Governor Lovelace, by an instrument dated May 23, 1671. And the interest therein conveyed, by Mulford, James, and Conkling, assigned to the Town of EastHampton "February 8, 1670-1."
'This Indenture made this 25th of July, 1687. WITNESSETH, that we Wyandanch and Sasakotake, Sachems of Meantaett, with the consent of Meantakett, more aspetially a vallewable Sum of Money in hand Received to the Vallew of One Hundred Pounds, doe allinate, bargin and sell, and by theas present, all our trac of Land att Meantaskett. All which wee have sould unto the Trustees of the freeholders and comonality of the town of East-Hampton, to them in behalf and for the oue of themselves and theirProprietors, to them thair Heirs assigns and to every of them their respective heirs, assignes and administrators. All and every of the demised premises, To Have and to Hold, to Injoy, and poses, to them their Heirs for Ever, with all privilages and apurtenances thair unto belonging, without the least Lett, hindrance or molestation by from us, our heirs and asignes, or any in our name; and wee doe by these present give them possession.
'And for the trew performance hear off, wee have hereunto sett our hands and fixed our seals, by the day first above written.
'Signed by "WEYANDANCH" and 17 others under seal, and acknowledge before "JOHN HOWELL, JUSTICE," August 3d, 1687.
Attest. JOHN MEREDITH. THOMAS HARIS.
'A fragment of the Pattent of East-Hampton, Thomas Dogan, Captain General, Govenor-in-Chief and Vice Admiral of the Province of New-York and dependencyes, Under his Majesty James ye Second.
'By the grace of God, of England, Scotland, France and Ireland, King, defender of the faith, &c. To all to whom this shall come, sendeth greeting: - Whereas Richard Nicholls, Esq., Govenor under his Royall Highness, James Duke of York and Albany, &c. Now his present Majesty of all territories in America, did by a certain Pattent, under his hand and seal, bearing date the 13th day of March, in the 19th year of his Majesty's Reign, and in the year of our Lord 1666.
'Ratify, confirm, and grant unto, Mr. John Mulford, Justice of the Peace, Mr. Thomas Baker, Thomas Chatfield, Jeremiah Conklin, Stephen Hedges, Thomas Osborn, Senr. John Osborn, as Patentees for and in behalf of themselves and their associates, and freeholders and Inhabitants of the town of East-Hampton, situate, lying and being in ye East riding upon Long Island, in the eastermost part of said Island, to their heirs, successors and assigns, all that trac of Land,which already hath been or hereafter shall be purchased for and on behalf of the said town, wether from the Native Indyan or others within the bounds and limits hereafter set fourth and expres't; that is to say there West bounds being the East bounds of Southhampton, as they now laid out and staked according to agreement and consent; and to stretch East to a Pond, Comnionally called Fort Pond, within the old bonds of land belonging to the Montauk Indyans, thence to go still East to the utmost extent of the Island; on the North bounded by the Bay, and on the south bounded by the Sea or Ocean.
'All said trac of Land within the bounds and limits before mentioned, and all or any plantatation thereupon, hencefourth to belong and appertaine to the said town. Within the jurisdiction thereof, together with all Havens, Harbors, Waters, Creeks, Quirries, Woodlands, Meadows, Pastures, Marshes, Lakes, Rivers, Fishing, Hawking, Hunting and Fowling and all Profits, Commodityes, Emoluments, Hereditsments to the said tract of land and premisese within the limits and bounds, Aforementioned, described belonging, or in any wise appertaining. TO HAVE AND TO HOLD all and singular the said lands, hereditaments and premises with every of there appurtenance and of every part and parcel1 thereof to the said Pattentees, their associates, their heirs, successors and assigns, to the proper use and behoof of the said assigns forever.
"The precise date the first inhabitants of this town, planted themselves upon the soil is not known, probably in the spring of or summer of 1648. The earliest instrument of record indicating their residence here is a letter of attorney John Hand, concerning some lands in Kent, England, Date-October 31st, 1649.
"Many of the inhabitants came from Maidstone, in the county of Kent, in England, They first called their plantation by that name. Within a year or about 1650, the settlement is mentioned on record by its present name, East-Hampton
"At the time of the first occupation of this new territory the Indians were numerous, situated on every side. On the East, the Royal Wyandanch swayed and sceptered. On the North, his brother Poggatacut ruled; and a third brother named Nowedinah presided and ruled. Little or no intercourse was held between East-Hampton and Southhampton for the unbroken wilderness which intervened.
"What a bold and daring step was taken; to leave behind the comforts, the conveniences and joys of £heir native land; leave far, and perhaps forever, their friends so dear to them. And here, in the dark and gloomy wilderness, in silence unbroken save by the Indians war-whoops, the hideous cry of the wild beast, or the solemn and majestic roar of Father Ocean, take up the earthly resting-place and home.
"Interesting to us would it be, did we know more of the character and circumstances of those first few families. We should like to paint them as they were, in life and being - undaunted resolution - firm religious trust spoke upon their countenances and told of the soul within. What high purpose. What sublime hope lighted up their eyes and swelled their bosoms- intellectual cultivation sat upon their brows. We should like to set before you their stalwart forms and iron frames, but their bones have long since reposed in the cemetery of their own selection.
"The first settlers of East-Hampton were: John Hand, John Stratten, Sen'r. Thomas Talmage, Jr., Robert Bond, Daniel Howe, Robert Rose, Thomas Thomson, Joshua Barnes and John Mulford.
"The following became their associates: Thomas Osborn, Nathaniel Bishop, William Gedges, William Barnes, Ralph Dayton, Lion Gardner, Thomas Chatfield, John Osborn, Thomas Osborn, Jr., Jeremiah Veals, William Fithiain, John Miller, Richard Brooks, Charles Barnes, William Simonds, Stephen Hand, Samuel Belknap, Thomas Baker, Samuel Parsons, Ananias Conklin, Joshua Garlick, Richard Shaw, Fluke Davis, Jeremiah Meacham and NATHANIEL DOMINY.
"The first six came from Lynn, Massachusetts. Of the original nine settlers, Charles Barns was the first school-master, Joshua Garlick was the miller. Few facts remain in relation to our early ancestors.
"The hand of time has moved on with sure, resistless progress, and left on record but a few memorials of the dead.
"Of the first settlers: Ralph Dayton, died in 1657. John Hand and Lion Gardner, died in 1663. Robert Rose must have died previous to 1665, the record of conveyance of his land, to his son Thomas, Dated December 19th, 1665.
"Many of our ancestors, lived to a very great age. Their simple habits, correct life, and a strong constitution lengthened out their days far beyond the ordinary life of man. NATHANIEL DOMINY, died about 1690. Richard Stratton, died June 7th, 1698. William Barnes, died December 1st, 1698. Joshua Garlick age 100 years, died March 7th, 1700. Richard Shaw, died October 18th, 1708. Thomas Osborn, died age 90 years, September 12th, 1712. Robert Dayton, son of Ralph Dayton, age 84 years, died April 16th, 1712. Samuel Parsons, age 84 years, died July 6th, 1714. Steven Hedges, son of William Hedges, age 96 years, 6 months, died July 7th, 1734. He must have been familiar with the town's history for at least 85 years. Joseph Osborn, son of Thomas Osborn, one of the first settlers, died here, in the Temple of our Fathers, while worshiping.
"The following is a literal copy: 'October 2nd, 1743. Joseph Osborn, son of Tho's Osborn, deceased, sank down and died in ye Meeting House just after morning prayer was begun, a quarter of ten, age almost 83 years. He never spake a word but expired.'
"The church stood near the old burying-grounds or on the site, on the east side of the street. Their houses were small, with thatched roofs. The Church was of similar dimension - thatched roof, boarded sides. The original allotment of land Were thirty-four in number. The lots were from eight to twelve acres each. The Mill stood at the South end of the town, this mill was driven by cattle, and the lane that lead to it was called Mill Lane. Thomas Baker kept the Tavern or Ordinary. Before the church was built the meetings were held at his house, for which he was to have 'the sum of £0, 1s, 6d, each Sabbath.'
''The licensing of Baker to keep Tavern is thus expressed upon the Records: 'June 29th, 1654. It is ordered that Thomas Baker keep the Ordinary.' The Town Record, book 2, page 33.
"Perhaps nothing is more conspicuous in the character of our forefathers than their untiring energy, activity and enterprises. Having arrived at the chosen place of their residence they set themselves at work with ceaseless industry and perseverance until their object had been accomplished. While they were busied in laying the foundation of government, educations and morals they were equally active in their daily toil and occupation.
"As early as 1653 they started to improve their allotment, soon subdued a great extent of the wilderness and brought it under cultivation. All the arable land in a circuit of two miles was under some degree of cultivation.
"The first settlers, (undoubtedly well educated men, as their records and laws prove) were chiefly farmers. They suffered many inconveniences for want of mechanics.
"They sent to Southold for a weaver, to Huntington for a blacksmith, to Wethersfield for a carpenter.
"February 2nd, 1653. It is ordered yt there shall bee an invitation sent to Goodman Morgan of Sothold, if Hee will come and live here and weave all the Towns work, hee shall come in free from all former charges and the Town give him 5 and break up 2 ackers of Land."
"The country afforded a wide range and abundant pasture for cattle, hence large flocks were kept. The first stock consisted of goats; afterward large herds of cows and horses were maintained. They were driven out in the morning by the shepherd and back at night. The whole town-herd were pastured together and each one took his turn in tending them.
"Among other pursuits was that of whaling - this made a source of profit as well as amusement. The early reference to that business- 'November the 6th, 1651. It was Ordered that Goodman Mulford shall call out ye Town by succession to loke-out for whale.' Book No. 2, page 20.
"They had their conflicting claims as to share of the whale taken by them. In 1653 a difficulty of this kind, they 'Ordered that the share of whale in controveries between the Widow Talmage and Thomas Talmage shall be divided between them as the lot is.' Book No. 2, page 30.
"We have heard, the old and venerable fathers spake, with enthusiasm, of the sport and peril of the whale chase and their success in that day: 'February 24th, 1719. This day a whale-boat being alone the men struck a whale and she coming under ye boat in part ataved it, tho ye men were not hurt with the whale, yet before help came to them four men were tired and chilled and fell off ye boat and ors to which they hung and were drounded: Henry Parson, William Schellinger, Junr., Lewis Mulford, Jeremiah Conklin, Junr.'
"We may discover the wisdom and foresight of our ancestors in establishing a free and Popular Government for themselves - in laying deep and broad the foundation of their little commonwealth upon the basis of education and good morals.
"The Government of the Town was vested in the People. They, assembled at their Town meeting, had all powers and authority. They elected officers, constituted courts, alloted lands, made laws, tried difficulty and imposed fines, and from their decision was no appeal. This Town Meeting or 'General Court,' as it was called probably met once a month. Every freeholder was required to be present and take upon himself a part in burden of government; all delinquents were fined 12d for nonattendance. It is impossible to specify the numerous and diverse acts of authority ordered made and done by the assembly.
"It provided school teachers and made regulations for the education of the youth; the salary of the Schoolmaster was 33£ per annum. It hired the minister; assessed his salary, first was 50£ per annum, afterward was 60£. It built churches, provided for the payment of building in the same manner.
"It admitted or excluded individuals or settlers from its society and privileges. No person was allowed to buy and sell lands without the license and consent of the town.
"Their laws were made not only for the purpose of establishing order and securing justice, but everywhere they breathe, a deep solicitude to prevent disputes and difficulty, as illustration:
"19th April, 1659. - It is Ordered that every man shall sett the two letters for his name at each end of this fence, the large letters, on the inside of the Post, above the upper Rail, upon penualty, &c." Book No. 2, page 33.
"The only other Court constituted by the inhabitants was a Court of Three Justices, called the 'Court of Three Men.' The first three Justices of the Court were: John Mulford, Thomas Baker and Robert Bond. Thomas Talmage was first Recorder or Secretary.
"This Court met 'at eight o'clock in the morning on the 2nd day of the 1st week in every month.' It had cognizance of affairs of minor importance, in cases of danger had the power to call special meetings of the town. It tried cases where controversy did not exceed five pounds, remitted fines under that amount. An appeal might be had from the decision of this Court to the General Court or Town Meeting, as appears from the following:
"October 1652. - Ordered if any man be aggrivated by and thing that is done by men in authority that he shall have the liberty to make his appeal to the next General Court or the men are assembled together on the public occation."
"Besides these three Judges the only other officers were a Secretary or Recorder and a Constable. The Constable was the executive officer. He was generally a man of consequence. He presided as meditator at Town Meetings.
"The Records of this Court still remain. They are written in a very singular hand, by skilled penman; but those antique hieroglyphics defy the curiosity of any but the most patient investigator. The records of adjudged cases are perhaps the best illustration of the habits, character and severe morals of our fathers. They gave all a hearing. Indians or foreigner, citizen or stranger, rich or poor were admitted to their courts and received at their hands the same equal justice. At the same time the people provided for an appeal to themselves from the decision of the Court of the three men, nobly sustained their magistrates in the discharge of duty. They gave them repeated tokens of their confidence; conferred upon them important trusts, protected them from insults and injury, passed the following:
"November 17th, 1651. - The 3 men chosen for Town Officers are ordered to sett out for a Meeting-House, and they shall have power to marrie during the year."
"The General Court upon another occasion when an individual had slurred and insulted their magistrates, ordered the following:
"October 3rd, 1655. - It is ordered that William Simons for his prospeaches to the 3 men in authority, being disturbence to them in their proceedings, that he shall fourthwith pay 5 shillings, which is to be disposed of to make a pair of socks."
"While our ancestors admitted the rights equal of all within their community, they deemed themselves as having a perfect right to exclude any from their number who were loose in morals and dangerous to the well being of the young. Nothing, can exceed with which they watched over the moral and spiritual interest of their rising village, following they ordered:
"1651. - That Goodman Meggs' lot shall not be laid out for James Still to go to work on, and that he shall not stay here." Book No. 2, Page 21. And Again:
"East-Hampton, April 7th, 1657. - It is agreed by the vote of the town that the bargain yt Goodman Davis, made with Goodman Birdsall in selling his land is annulified and not to stand." Book No. 2, Page 44.
"At the same time they took no undue advantage over others in the exercises of authority. On the decease of Nathaniel Foster, a son of Christopher Foster of Southhampton, was passed the following:
"The beginning of October 1660. - At our meeting, upon Goodman Foster's request, he was accepted to possess as an inhabitant, his sonne Nathaniel's lott, to live upon it himself or put in such inhabitance as the town should accept of, and bee to defray all charges." Book2, Page 85.
"This town took its laws from the Colony of Connecticut, selecting such as it deemed as applicable to its circumstances, molding them to suit their wants. They therefore exhibit the living, breathing spirit of the people. The Uninfluenced choice of their mind - clothed in the quaint language, partaking of the spirit of the times.
"They, in 1656, provided that slander should be punished "by a fine of 5 pounds as the men in authority see meet " At the same period they enacted law against personal violence in the following words:
"It is ordered yt whosoever shall rise up in anger against his neighbor and strike him he shall fourthwith pay ten shillings to ye town and stand to the centure of the Court. And if in smiting he shall hurt or wound another he shall pay for the cure, and also for the time he was hindered." Book 2, Page 45.
"It seemed that they deeply and most solemnly revered their obligation of the oath, detested and despised perjury as an abominable crime, richly meriting the most severe punishment, enacting the following law against that crime:
"February 12th, 1656. - It is ordered yt whosoever shall rise up as a false witness against any man to testifie yt which is wrong, there shall be done to him as he had thought to have done unto his neighbor, wether it be to the taking of Life, Limb or Goods, shall be punished to the fullest as to the crime committed."
"Another striking fact to be borne in mind - speaking for the good principles of our forefathers, their dealings with others - they never had any serious difficulty with the Indians. Doubtless this was due to the mighty Sacham, the friendly Wyandanch of the island. He used his great name as a shield for the prevention of difficulties and bloodshed. He acted an important part as an ally, in assisting the early settlers of New England in the war against the Pequots, a hard and well earned fame by his material achievements in that deadly contest.
"But, be it ever remembered, that every foot of soil which their labors redeemed from nature's wilderness, made to smile with luxuriant harvest, was purchased by our ancestors of the Aborigines of the forest, the stipulated price fully and honestly paid. The Indians bore the highest testimonials of kindness and hospitality, and greatfully acknowledged it in their conveyance to the whites.
"There is no time more appropriate than now to pay tribute to this worthy Chieftain of an immortal fame. "The Montauk Tribe of Indians were tributary or allied to the Pequets." When this country was first settled, a war prevailed between the Pequots on one part, and the Narraghansetts on the other, who were numerous. The Block-Island Indians took sides with the latter, the Montauk Indians with the former. In this war the Montaukers received such a heavy blow dealt them by their neighboring tribes, the Block Island Indians at the battle of Block-Island.
"Both parties sat out in their war canoes, on the same evening, it was in the summer season, at the full of the moon. They met half-way, but the Block-Island's being so situated in the glades of the moon, could not be seen, while at the same time, looking Westward, they saw at a distant their enemy silently approaching in Indian file. The word was given, they hurried back to Block-Island, laid in ambush for the enemy, secreted their wives and children."
"The Montaukers, unsuspicious, arrived at their landing place, hauled up their canoes, were silently, as they thought, sure of success, approaching the wigwams, as they supposed asleep. They fell into the ambush that was laid. While one party was killing them, another was destroying their canoes and slaying such as attempted to return. All were either taken or killed, except a few that escaped in one canoe. These brought the melancholy news to their friends. The Montaukers then moved on the parsonage lands at East-Hampton, at the south end of Town Street, under the protection of the whites, and there remained. Their Sacham was taken alive and carried to Narraghansett. A large, flat rock was heated hot by building a fire upon it. He was ordered on it, with his bare feet. He sang his deathsong, walking several times across it, till his feet were burned to the core. He fell - they finished the scene as usual in such cases.
"The author of the Chronicles of East-Hampton, (of whom none was better versed in local antique) says of them:
'In their religion they were Polytheists or Idolaters. Their government was a monarchial despotism. In person they were tall, proud and lofty movement, of active bodies, as strait as an arrow. They were warlike in their habits, most of their time in the study of military policy. Their Chiefs and braves distinguished above those of other tribes on the Island, for recklessness of life in battle, for bold and daring onset under their war screams, they rushed the enemy.
'In their canoes they visited the neighboring islands and the main-land as far east as Boston, and as far south as New York, and New-Haven was frequent. Their habits were social, they visited often the families of neighboring Tribes, with whom they mix in converse and friendly gaiety.
'In art they had made but small advancement. The principle article manufactured were shell beads, called wampum, made by them in greater abundance than by any other Tribes.
'They were, as before remarked Polythests. They had gods in great numbers; many of lesser influence, having particular charges, two of exalted degrees, the good and the evil Deity, a general superintendence and control, as well over all other as over man.
'There was a god of the four corners of the earth, the four seasons of the year, of the production of the earth; another of the elements, one by the day and by the night; a god of the hearth, the family, domestic relations. The great, good, and supreme Deity, called CAULKLUNTOOTUT, one possessed of supreme power. The evil spirit was called MUTCHESHESUMETOOH, signifies evil power. They worshiped and offered sacrifices at all times to those gods. They had small idols or images which knew the will of the gods, and a regular Priesthood by whom these idols were consulted. The priest (called POW-WAS) declared to the people what the gods required of them. There were the Medicine men, who administered to the sick; relieved those affected by the evil spirits, and by charms protected the people from all harm.
'They believed in a future state of existance; that their souls would go westward a great distant, and many moons journey, to a place where the spirits of all would reside, and where in the presence of their great SAWWOUNNUTOWORTH, beyond the setting sun, the brave and the good would exercise themselves in pleasurable singing, feasting, hunting and dancing forever. The coward, the traitor, the liar, and the theif were also there, but the enjoyment of the favored only added to the pain of the punishment visited upon the misdeeds of the wicked.'
"Truth, however, demands the acknowledgement that there was once a time when much danger from the Indians appeared. In 1653 the Narraghansetts and others endeavored to form an alliance against the whites. They committed murder at Southhampton, and assumed a hostile attitude.
"The records of this period show that our ancestors shrank not from the crisis. They never dreamed of deserting their post. Providence, as they thought, had led them to this spot as their home. Wild and savage as it was, they had planted their feet upon its soil - erected their rude habitations - began their struggle in the wilderness; and, providence had led them there, under God, they would remain and abide like men that destiny awaited them.
"They set a watch of two by night and one by day. They gave power to the 'Three men' to call a Town Meeting at a half hour notice They sent to Connecticut for a 'ferkin of powder and shot equivalent' as their order, expressed it. They never thought of abandoning their sanctuary. Their worship must not cease. The Sabbath morning breaks. The sun cast his rays upon the scene. The primeval forest rises in majesty, unruffled by the breeze. The virgin fields smile with the harvest. From many a habitation the curling smoke ascends. How quiet, how peaceful that Sabbath morn appears, as it illuminates the little village. Morning prayer had been offered under every roof - but still no sound of busy life or labor breaks upon the ear. The hours passed on - higher the sun ascended. At length the sound of the warlike drum rises from the front of their little church; it sends farther and farther its pealing notes - it is the summons to prepare for service of the sanctuary. An hour elapses and then the drum's beat - the villagers pour from their dwellings -- infancy, manhood, tottering age, matron and maiden, all throng to the church. The sun flashes upon the armor they bear. Thomas James, their Pastor, follows - small in stature, undaunted in step and bearing - takes his seat to minister the word of life.
"There sit our ancestors, solumn, anxious, hopeful, praising and worshiping the Most High with their arms and warlike equipment by their side.
"We hear them say- "We are troubled on every side, yet not distressed - we are perplexed, but not in despair- persecuted, but not forsaken - cast down, but not destroyed." Ye spirits of our sires, when shall we see the like again? - such wisdom in council? - such valor in the fields?
"This, however, was only an alarm, although for a time not serious. And it is believed, to the honor of all, be it said that Indians and whites never drew from each other a drop of blood in murderous contest, from the earliest settlement to our present peaceful times. It was under the influence of such energy of character, purity in morals, wise precaution and forethought for the future, this little settlement, under providence, prospered and grew on all sides.
"This town existed as an independent settlement or plantation for a period of eight years, until 1657. In that it united with the colony of Connecticut in an alliance for the purpose of counsel and defense. Our fathers often sought counsel and advice of neighboring towns in different cases. Their attachment to New England was strong. When the Dutch, in 1664, surrendered their colony of New York to the English, the whole island was claimed by the Duke of York, included in his grant and jurisdiction. After unavailing remonstrances against it, despite their entreaties, they came under the Duke's Government and formed a part of his colony. From then on they remained under the government of the colony of New York.
"It will be my chief object as I trace the history of the town, to bring more vividly before the minds the ardent love of liberty and devotion to their religion, which our forefathers have manifested. The first few years it does not appear that our ancestors had any written constitution as a foundation for their government. They probably lived together under the implied contact of a people bound only by great principles of natural equality, justice and reason, aided by their knowledge of divine revelation.
"In 1654, however, and on the 18th of September, they passed the following:
'It is ordered that there shall be a copie of the Connecticut Combination drawn forth as a covenient for us, and yt all men shall set their hands.'
"Their constitution was copied accordingly. They added to the original, however, the last quarter, referring to the obligation of conscience, and the covenant to stand by their officers. The following is their covenant:
East-Hampton, October 24, 1654 - 'Forasmuch as it has Pleased the Almighty God by the wise dispensation of his propidence, as to Order and Dispose of things that we, the Inhabitance of East-Hampton are now dwelling together; the word of God requires that to maintain the Peace and Union of such a people there should be an Orderly and Decent Government established according to God - to Order and Dispose as Occation shall require: -

'We do therefore associates and conjoin ourselves to be one Town or Corporation; and Do for ourselves and successors, and such as shall be adjoined to us at the time hereafter enter into combination and confederation together to maintain and preserve the Purity of the Gospel of our Lord Jesus Christ, which we now posess, as also the Disciples of the Church, which, according to the Truth of said Gosple, is now practised among us.

'As also in our Civil affairs to be guided and Governed by such Laws and Orders as shall be made according to God, and which by vote of the Major Part shall be in force among us. (Furthermore we do engage ourselves that in all votes for choosing Officers or making Orders that it be according to Conscience and our best Light. And also we do engage ourselves by this combination to stand to and maintain the authority of the several Officers of the Town in their Determination and actions according to their Orders and Laws that either are or shall be made, not swevering therefrom.) In Witness whereof, each accepted Inhabitant set to our hand.'
"The Oaths of the Officers of the Town were very minute and pointed out their duties. The Oaths were generally solemn; sometimes however the forms were singular, and expressed in the extreme quaint style of the day. The following at an early day was the Constable Oath:
'You, being chosen constable of this Court, Doe swear, by the name of the Great, Ever-Living God, that you will faithfully put in execution all such warrants as shall be entrusted unto you to execute, during this year for which you are chosen, in case you stay among us, soc well as you can, soe help you God.'
And again:
'At a Legal Meeting of ye freeholders and Commonalty of ye Town of East-Hampton, April ye first, 1718, Cornelius Conklin was chosen Town Clerk and sworn as follows: 'You, Cornelius Conklin, Do swear that you shall safely keep all ye Books of Records delivered to you, and also to Record all Town and Trustees votes, until another person is chosen for that purpose, and also give copies out Sd. Records, as you may be required by ye Town or Trustees, as Town Clerk, According to ye best of your cunning, wit and power, so help you God.
Sworn before me,
ROBERT HUDSON, JUSTICE

A TRUE COPPY per Me.
CORNELIUS CONKLIN, Town Clerk.'
"Their recognition of the 'Providence' of 'Almighty God,' and acknowledgment of their obligation to obey the requisition of his word, are too conspicious to demand our notice. Their determination to be governed by such Laws and Orders as were passed by vote of 'the Major Part,' 'among us,' bespeak as clearly their understanding of the superior right of the majority of the people, and their engagement that 'it be according to conscience and our best light,' reflects as from a mirror, the high sense of 'moral, Obligation which pervaded them.
"The pursuits of public and of private life - the affairs of utmost or ordinary importance were to be conducted according to 'CONSCIENCE.' What a lesson to the people of our day did they leave on record two centuries ago. When will their descendants enter into the affairs of government and of public life, discharging their duties according to, 'Conscience' - when disowning the principles that a Christian cannot discharge his high duties as a citizen and elector in a free country, without contamination from corruption?
"Why slumber the spirits of our fathers amid our father's home? Their religion was free, comparatively, from errors and superstition of the day.
"In the year 1657 complaint was made to the magistrate of the Town that 'Goodwife Garlick' had practiced witchcraft. An investigation of the charges was made, but the people finally concluded to send her to Hartford for trial. Perhaps they were distrustful of their skill and knowledge of Witchcraft. Enough appears upon the records to show that the "Goodwife" had many powerful friends. Whether any further order was made in her case does not appear. It is probable nothing further was ever done in the complaint than as above stated.
"It was as early as 1651 they took measures for erecting a church. That church was enlarged in 1673; again, after some difference of opinion enlarged in 1698, was remodeled and repaired in 1822,
"The illustrious Ministers who for the first 150 years in this town, are too widely known, and too familiar to require enlarging on here. 'Historians have already recorded the genius, originality, and resolution that lived in the character of Thomas James, the first semicentenarian paste of the town. The learning ability and devotion of Nathaniel Huntting, the second semicentenarian pastor. The third pastor, the Reverend Samuel Buell, D. D. was the cause and author of the erection of Clinton Academy. His sound judgment, clear perception, vivid fancy, impressive power and manner, left their influences behind him.
"The fourth pastor, the Reverend Lyman Beecher, D. D. is known by fame in every land. When we remember that in the maturity of his genius and fire of his eloquence, and drew in living lines, the character and history of our forefathers.
"The fifth pastor, the Reverend Ebenezer Phillips, his solemn deliberate, clear address, replete with truth and doctrine of our boyhood days.
"The sixth pastor, the Reverend Samuel R. Ely, supplied the pulpit for nine years, on account of his declining health.
"The seventh pastor, the Reverend Joseph D. Condit, mild, tender and pathetic. His childlike spirit fled to the home on high.
"The eighth pastor, the Reverend Alexander Bullions.
"The ninth pastor, the Reverend Samuel Huntting, stood up here for a little while to minister to his people, at that altar where a hundred and fifty years before, his honored ancestor had kindled and fed the holy altar flame. He rose and quickly struck by the fatal arrow, joined in high communion his ancestral fathers.
"We now call your attention to the patriotism of our ancestors; to their adherence to free institutions and resolute, unflinching tenacity with which they maintained their rights. As their religion was free, in a great degree, from superstition and bigotry, so their principles of politics and government were comparatively free from persecution and intolerance. When their country demanded their assistance, feebly, and exposed as they were, they generously offered it. They say:
'June 29th 1654. - Having considered the letters that came from Keneticut, wherein we are required to assist the power of England, against the Dutch: We Doe think ourselves called to asist the sd Power.'
"Subsequently, throughout their whole history, it does not appear that their country ever raised the cry for her sons to arms for battle.
"The Colony of New-Haven adopted a Covenant or Constitution excluding all who were not members of the church from the privilege of elections. Our fathers, disliking this narrow and exclusive spirit, joined the more remote confederacy of Connecticut, which admitted all their citizens to equal rights and privileges.
"The Royal Duke of York, by his deputized Governors, swayed the scepter of government over the Colony of New-York, with arbitrary power. They oftentimes excluded the people altogether from choosing representatives of their own to pass laws in the General Assembly. Sometimes, after yielding to the people's demand, they disobeyed the Assembly which they had chosen of their own arbitrary will. Hence the sympathy of our fathers with their early friends of Connecticut, and their attachment to the free and chartered Government of the Colony. Hence their earliest appeal, in 1664, to that colony to continue them under their government and jurisdiction. Hence, in the same year, their determination not to pay their taxes to the Government of New York.
It was in June 1682, at a General Training of the Militia, that they drew up and signed their petition to Anthony Brockholt, the Governor of New York. It is as follows:
"To the Honourable the Governor, under his Royal Highness the Duke of York. The Humble address of the Inhabitants of the Towne East-Hampton, upon Long Island, Showeth;

"Whereas, at the time the Government of 'New-York was established under our Sovernigne Lord the King, by Colonell Richard Nicolls, and those Gentlemen sent in Commissions with him, Wee the inhabitants of this Towne,soe well as the rest of the Island being required, sent our messingers to attend their Honours, and them, both by word and writing, wee 'were promised and engaged the Enjoyment of all privileges and liberties, which others of his Majesties, Subjects doe enjoy, which was much to our content and satisfaction:

"Alsoe, afterward being required by these, his Majesties Commissioners, to send upp our Depities to meet at Hampstead, and their whole Island being Assembled in our Representatives, wee did then and there, uppon the renewal of these former promises of our freedom and liberties, Grand and Compact with the said Colonal Nicholls, Governor under his Royall Highness. That we would allow soc much out of our Estate yearly, as might defray the charges of Publicke Justice amongst us, and for killing of whales, &c.

"But may it Please your Honour to understand, that since that Time wee are deprived and prohibited of our Birthright, Freedomes and Privileges, to which both wee and our ancestors were born; Although we have neither forfited them by any misdemeanor of ours, nor have we at any time been forbiden the due use and exercise of them, by command of our Gratious King, that we know of; and as yet neither wee, nor the rest of his Majestie's subjects uppon this Island, have been at any time admitted since then, to enjoy a Generall and free Assembly of our Representative, as other of his Majestives Subjects have had the privilege of; But Laws and Orders have beene imposed uppon us from time to time, without our consent, (and therein we are totally deprived of a fundamental Privilege of our English Nation,) together with the obstruction of Trafficke and Navigation with other of his Majesties Subjects, So that wee are becoming very unlike other of the King's Subjects in all other Collonyes and Jursdictions here in America, and cannot but much resent our grevances in this respect, and remain discouraged with respect to the Settlemant of our selves and Posterities after Us. Yet all this time payment and performances of that bath beene imposed uppon us, hath not been omitted on our part, although performance of our promised Privileges aforesaid, have beene whilly unperformed; and what payments from yeare to yeare, this many yeares, hath beene made by us, Hath beene made use of to other purpose than at first they granted for and intended by us; Soe that wee cannot but fear, if Publicke affaires, of government shall continue in this manner as they have beene, but hope better, least our Freedoms should turned into Bondage, and Antient Privileges so infringed, so that they will never arrive to our Posterities. And wee ourselves may be justlie and highly culpable before his Majestie, for our Subjection to, and Supporting of such a Government, CONSTITUTED, soe Contrarie to the fundamental Lawe's of England; it being a principall part of his Majestie's Antiente and just Government, to rule over a free people, endowed with many Privilege above others, and not over Bondman, oppressed by Arbitrary Impositions and Exactions.

"These things Considered, we cannot but humbly request your Honor to weigh our condition in the Ballance of Equity, with seryousness, before you proceed to any ACTION of your own, whereby to assert the proceeding of your Predecessors in Government, which wee now, with all Christian moderation doe complain of.

"And for the redress hereof, an Adresse as we understand, hath been made to his Royal Highness, by a late court of Assize, in behalf of us and our NEIGHBORS, in this Colloney; So that we are not without hope our HONOR bath received DIRECTIONS to ease us in these our grevances, by the Remedies humbly requested by us, and petitioned for by the INHABITANTS of this island, to the last. Court of Assize that did sitt at New-York, to which as yet, no satisfactorie answer hath been made. If therefor your Honor may bee an Instrument under God, and his Majestic our Soveraigne Lord the King, to relieve us, and the rest of his Majestic's good subjects uppon this Island, in our grievances, and be a means to help us to the free Enjoyment of our Birthright, Privilages, which the fundamentall Constitution of our English National Government doth invest us with (which as we doubt not, will be very pleasing to his Majestic, and all your Loyall Superiors,) Soc your Honour may bee assured it will firmly Engage and Oblige us, your humble Petitioners and our Posterities after us, to have your Prudence and Justies in Honourable Rememberance, as the first register of our free-dome and priveledges, to our great CONTENTMENT. But, Sir, if it shall fall out otherwise, which God forbid, and wee are very unwilling to suppose, and that your HONOUR should, by reason of Counsells and Suggestions, put soc a CONTRARY COURSE to our humble Desires, soc as to continue or augment our grievances, then wee request your Honour Pardon and Excuse, if in conscience to God, and in Honour and submission to his Majestic, our most Gracious Soveraigne, we prostrate our SELVES, and our STATE and CONDITION, before the Throne of his unmatchable JUSTICE and CLEMENCE, where we doubt not to find RELIEF and RESTAURATION, and can doe no less, on the meane time, but RESENT our forlorne and bereaved CONDITION. So, Sir, as our prayers are CONTINUED for a happy and glorious Reighne to his SACRED MAJESTIE the King; and also our prayers shall be for your HONOUR, that you may be a blessed Instrument under God, in your WISDCME, JUSTICE and EQUITY over us; And humblie make bold to subscribe his Majestic's poore, depressed, through LOYALL SUBJECTS and your most HUMBLE SERVENTS."
"In this memorable petition they recite their grant and charter from Governor Nicolls, in 1666. They refer to the promises of Freedom and Liberty, then made to them when they received that patent, and they go on to say:
'But, may it Please your Honour to understand that since that time we are deprived and prohibited of our Birthright, Freedoms, and Privileges to which both wee and our ancestors were borne; although we have neither forfited them by any misconduct of ours, nor have we at any time been forbidden the due use and exercises of them, by command of our Gracious King, that we know of. And as yet neither we nor the rest of his Majesty's subjects uppon this Island have been at any time admitted since then, to enjoy a general and free Assembly of our Representatives, as other of his Majesties subjects have had the privilege of.

'But Lawes and Orders have been imposed uppon us from time to time without our consent, (and therein we are totally deprived of a fundamental privilege of our English Nation,) together with the obstruction of Trafficke and Negotiation with other of his Majestic's subjects; so that we are become very unlike other of his Majestic's subjects in all other colonies here in America, and cannot but much resent our grievances in this Respect, and Remain discouraged with Respect to the Settlement of Ourselves and Posterities after us.'
"Thus, more than ninety years before the Declaration of American Independence, they proclaimed the free principles upon which it was based. It is believed that no people in this country saw farther, or earlier than they, the correct principles of a Free Representative Government. None placed them upon the records before them. We wonder- we admire the wisdom of our fathers. In 1683 Governor Dongan, succeeded Anthony Brockholt as Governor, landing on the east end of Long Island. Upon his arrival we are told he heard the language of discontent and dissatisfaction. Perhaps he saw then, good reason to conclude as he declared in his report to the committee of Trade, February 22nd, 1687, that "most part of the people of the Island, especially toward the east end, are of the same stamp with those of New-England."-Vide Doc. History New York, page 166.
"On page 151 of the same report he urged that Connecticut be annexed to New York, and says, "Wee found by experiences, if it place not annexted to that Government, it will bee imposible to make any thing considerable of his Ma'tys Customs and Revenues in Long Island; they carry away with't entering all our Oyles, which is the greatest part of what wee have to make returns of from this Place." The petitions of the people procured temporary relief.
"The General Assembly of the Representatives that met in 1683, 1684 and 1685, was discontinued by the despotic mandate of Governor Dongan. In 1686 the present Town Patent was granted by Governor Dongan, confirming that of Governor Nicolls, and giving authority of the Trustees of the Town to purchase the unpurchased part of Montauk, which affected the Indians, dated July 25th, 1687.
"This conveyance covered all lands east. Thus, the Indian's title to the lands was extinguished, and a final conveyance was taken in 1702-03, a lease, not transferable, vesting in them limited enjoyment of their ancient inheritance, on which the few remaining families of the tribes now reside.
"The history of the town cannot be more clearly exhibited without reference to the life of the celebrated Samuel Mulford. He was the eldest son of John Mulford, was born in 1645, and for twenty years, from 1700 to 1720, represented his country in the Provincial Assembly. From his father he inherited the strong, reflecting mind; the stern principles and unyielding determination of the early Puritans. He was attached to the Government of Connecticut, and remonstrated against the annexation of the town to New York. He watched the abuse of government with a jealous eye and no combatant ever maintained his post more unflinchingly than he.
"In the year 1716, the Assembly, subservient to the wishes of Governor Hunter, ordered the speech of Mulford to be put into the hands of the speaker. Mulford boldly published and circulated his speech. It denounced the corruption and governmental misrule of finance, the usurp collection of the revenue, and its disbursement. The Governor commenced an oppressive and harassing lawsuit against him in the Supreme Court, the judges he had appointed. Mulford was a farmer and did not possess large property. He gained his estate and support by his daily toil. The House, in sympathy with him, on the 21st day of August, with their Speaker, attended the Governor and presented him a resolution which they had passed, soliciting the discharge of Mulford from the suit. The suit was suspended and Mulford returned home. On his return he resolved to petition the King in person, for redress.
"Among other grievances the town of East Hampton complained bitterly of the duty of one-tenth of whale oil, extracted from them by the Governor of the Colony. Whaling was to them an important industry. Mulford desired to procure a bounty for the encouragement. He concealed his departure lest he should be arrested by the Governor, landed at Newport, walked to Boston and embarked for the Court of St. James. He presented his memorial which attracted much attention, and was read by him to the House of Commons.
"While at the Court of St. James, Mulford was annoyed with pickpockets, being, as they supposed, a proper subject or as we should say, "rather green." At length his patience became exhausted on purchasing pocket handkerchiefs, etc. The Yankee went to a tailor's and had several fish-hooks sewed in the inside of his pockets.
"Soon after going to court, he had his fellow fast by the hand. This incident was published at that time, in England, and won an extensive notoriety for Mulford. The tax on oil was "ordered to be discontinued," and Mulford returned home, triumphant, at the age of 71 years.
"Picture to yourself the homely apparel; the simple manner; the stern bearing; the lofty, unqualing appearance of that self-taught, high-minded man, and you have a noble exhibition of what our ancestors were.
"Captain Mulford took his seat in the House of Representatives, and again the question of his speech was called up. Perhaps the Governor was stung at his success, and his bold exposition in England, of his cupidity and injustice. War was renewed with fiercer feeling than before. The House called upon him to give the reason for printing his speech. He gave them, and withdrew, a motion having been made and carried. Mulford had the honor of being expelled from the House.
"A new election was held to supply the vacancy. The people, true to themselves, not withstanding all the influence of power, patronage and wealth, again elected Mulford as their representative, an act worthy of themselves and champion of their cause. They were not to be bought, deceived or terrified.
"In the autumn of 1717 he again took his seat in the House; and again, alone waged the unequal contest in defense of his people. What was there - pride, pomp, power or superstition -should deter him from exposing fraud or corruption wherever he found it? In 1720, Governor Burnt succeeded Governor Hunter, and again bold denunciation of Captain Mulford drew upon him the censure of the office of Government.
"On the 26th of October 1720 having refused to act with the old Assembly then in session, upon the grounds that a new one should have been chosen, that the acting Assembly was unconstitutional, he again was expelled from the House. Thus, 50years before Wilkes, Mulford ran the same career in America, with purer motives had been so nobly sustained by his constituents. Thus ended Captain Mulford's life. His advanced age kept him from further service. He died August 21st, 1725, at the age of 81 years.
"In 1760 the war ending in the conquest of Canada, Captain Elisa Hand and Captain Jonathan Baker of east Hampton were commanding companies raised by them in the town and vicinity. They both were at the attack of Ticonderoga, by General Abercrombie; were also present, under General Amherst, at the capture of Crown Point. At the close of the war they returned to their homes.
"In extending this subject further, the chief object will be to portray more distinctly the characteristics of the early inhabitants of East Hampton; some of which have been slightly glanced over, while others have not even received a passing notice. Also, briefly to present the relative power and importance this venerable town had in its making history during the Revolutionary War.
"Maidstone, from which most of the ancestors emigrated, is said to be situated on the east bank of the River Medway, thirty miles and a half east-south-east of the city of London, in a rich agriculture district in the County of Kent. The district in which it is situated is celebrated for the amount of hops it produces. The town or borough has for centuries possessed a charter.
"A few brief fragments of the history of Maidstone, which I have met, show that the inhabitants have been characterized by an ardent attachment to free and popular institutions, that twice in its history their charter has been annulled, in consequence of their impetuous and fiery zeal, and sympathy with insurrection and rebellion.
"In the county of Kent, the tenure by which lands were holden was more free than those which had prevailed over the rest of England. In this county prevailed the custom of "GAVEL KIND," by which instead of descending to the oldest son, as in the rest of the Kingdom, the lands to be inherited by all alike. Lord Littleton described the custom:
'But in the County of Kent, where Lands and Tenements are holden in "GAVEL KIND" there, where by the custome and use, time out of minde of man, the issue, male, ought equally to inherit; this custome is allowable because it standeth with some reason, for every sonne is a gentlemen as the eldest sonne is, and perchances will grow to greater honour and valor if he hath any thing by his ancestors, otherwise, per-adventure, he would not increase so much, &c.' -COKE upon LITTLETON Section 210.
"Doubtless the TENUTE by which, under Governor Dongan's Patent to "The Trustees of the Freeholders and Commonalty of the Town of East-Hampton, their lands were to be holden in free common socage, according to the manner of East Greenwich, in the county of Kent, within his Majesty's Realm of England," was well understood by our ancestors as it is by their descendants.
"The peculiar characteristics were prominent in the early inhabitants of the town; widely known as "KENTISH MEN," where similar circumstances in their local situation, were identically the same as their former abode.
"Their home in England was a rich, level, agricultural district, permeated by the Medway. And their adopted home in this country bore the same general level appearance, and under their enterprise, the harvest of the new, doubtless rivaled those of their ancient home.
"The Main Street through their native Maidstone, running north-east and south-west; and here, as if designed to build and plan from the same model, they ran their Main Street in the same direction. There, as "KENTISH MEN," they were known as substantial freeholders, though not men of wealth; and here they preserved the same character for thrift, frugality, economy and liberty.
"There, as qualified voters, they were more or less familiar with the ELECTIVE FRANCHISE and with the right of representation in Government. The same characteristics which we should conjecture them to have posessed in their native country, shone forth here in all their acts and doings. Freedom sat upon them as no new thing. Responsibility and government fell upon men, to all appearance, not unaccustomed to bear their weight, not ignorant in their proper exercises.
"Nowhere do we find riot, lawlessness, anarchy or instability, so characteristic of a people just awoke to freedom. But constitutions, laws, order, a regular independent and systematic government arose. They were built upon the intelligence, virtue and piety of the first colonists, upon these foundations they securely reposed.
"They not only felt the responsibility of self government, but they fully determined that each one of their number should discharge his duty.
"With them there was no escaping the burdens of the government-no shirking it off upon a few of their numbers. Measures were taken to compel every one, so he could not shirk his duty; that when they assembled in Town Meetings, every one should express his opinion, that too, in such a manner that all might know it.
"The following order, expresses their opinion, as of their records:
'November 2nd, 1652. - Every man to vote by. HOLDING UP his hands, under Penalty of 6d,; the same being before deliberately debated.'
"Nor did they stop here. They understood and acted upon the principles, that each one as a member of their community, owed certain public, duties, the discharge of which were as imperative upon him as those arising out of his private or domestic relations. Entertaining these opintions, and with end in view, they passed the following:
'October 7th, 1656. - It is ordered that if any being chosen Secretarie or Constable, refused to serve, and not given a sufficient reason, shall pay 30s.; and if any be chosen Townsman, refuses without reason, shall pay 40s.'
"Those three orders, compelling under penalty, Attendance at Town Meeting - Voting when there - and Acceptance of office when elected, show their clear and perfect apprehension of public rights, and with their other acts, exhibit the founders of this little Commonwealth. They knew, likewise, right well where and by whom, and in what proportion the pecuniary burdens of the Commonwealth should be borne.
"They enacted 'rules, by which each man himself should give an account of his property to the proper taxing officer; and in the same enactment they coupled a penal provision against a fraudulent concealment of any part of his estate.
'November 8th, 1656. - It is Ordered that concerning mens giving in their Estate that is visable. Whatever is not given in according to Order, the Partie so doing shall loose the one half of those goods not given in for the Rate.'
"It may well be doubted whether any advancement has been made in the system of an equitable taxation, since the days of our forefathers. And in these times to evade off the performance of public duties, and more particularly of individual concealment and evasion for the purpose of avoiding the just proportion of the public taxes and burdens. It may not be improper for legislators to consider the preceding provision of our fathers, as a remedy for this prevalent evil, and we commend it to their notice and consideration.
"Amid the scarcity of money it was found convenient to pay their rates in produce of their farms or in whale oil or other commodities, and accordingly that primitive method of payment was adopted. The school-master, the minister, and public officials were paid their salaries and fees in the like manner.
"For satisfaction of the curious, I give the following extracts from their records:
'December 8th, 1656. - It is ordered by the 3 men, that for the payment of the the Towns Rates, Wheat shall be paid at 4s, and 6d. per bushell, and Indian Corn at 3s, and 6d. per bushell.

'On a Meeting of the Trustees, being Legally met, March 6th, 1688-89, it was agreed that this year's Towne rate should be held to be good pay if it be paid as Follows: Dry merchantable hides att 0l. 0s. 6d. Indian Corn att 0l. 3s. 0d. Whale Bone, 3 feet long and upwards att 0l. 0s. 8d. and what otherways is paid, Lett the Rule in the County Rate be your direction.'
"The religious characteristics of the first settlers of East Hampton have already been noted to some extent. Their religion was a practical, living, every day nature, a great life guiding principle. It gave them their conduct, and went out with them from their Sanctuary of Jehovah, to abide with them during the week. It regulated their intercourse with each other, summoned their sympathies in the aid of the distressed as well as restrained them from the injuring of others.
"Yielding to the rest of the world the enjoyment of their opinion, yet sternly protected themselves in the enjoyment of their religious opinions and worship. As evidence of their views of their own rights and determination nor to suffer therein, we quote the following record:
'November 24th, 1656. - It is alsoe Ordered that noe Indian shall travel up and down or carrie any burdens in or through our Towne on the Sabath Day. Whoever, is found so duing, shall be liable to corporal punishment.'
"Conscious as they were of the evils of Intemperance, one of their first efforts was to guard against its influences. The General Court- passed the following act or Order in 1651:
'That no man shall sell any liquor but such as are deputed thereto by the town, and such men shall not let youth, and such as are under men's managment, remain drinking at unseasonable hours, and such persons shall not have above half a pint at a time among four men.'
"How eager they were to preserve the peace and morals of their community. To guard against the inroad of vice. How watchful in their care over the young.
"Nor did their sympathy or their vigilance stop here. Knowing the sad havoc, spiritous liquor had made with the Aborigines, as well as their unconquerable thirst, they passed laws for the prohibition of the evil, and the protection of the Indians.
'May 26th, 1655. - It is Ordered that for the prevention of drunkenesse among the Indians, by selling strong water - FIRST That no man shall carry any to them to sell, nor send them any, nor imploy any to sell for them. Nor sell 2 Drams at one time, and to sell to no Indian but such as are sent by the Sachem, and shall bring a written Ticket from him, which shall be given by the town, and he shall not have above a quart at a time.'
"Enlargement might be made upon the characteristic traits of our ancestors. And while there is much in their history in which their descendants may exault - much reflecting equal credit upon their understanding and their heart, we are assured from an extensive research, that there is little of which we need to be ashamed.
"Stern and unyielding as they were in their adherence to duty. Tenacious as they were of their rights. Uncompromising in their sense of justice-they yet had the most tender sympathy and kindness, mingled with the more rugged elements of their nature; and when there was an appropriate field, they rarely failed to manifest them. Their commiseration and sympathy is most touchingly displayed in exempting the unfortunate and the poor from public burdens, and in protecting with a strong arm the helplessness of the widow.
"At a very early day, before 1700, they manifested their kindness and sympathy in volentarily providing for the wants of the poor and crippled. They were conveyed to the west end of the island, where medicine, advice and assistance could be obtained, (there being no physician among them), they freely paid out large sums of money at different times, for support, maintenance, and medical aid to those children of suffering and want, as their records show. As a homely, yet substantial token of their sympathy, they exempted widows from labors and burdens, their generosity led them to devolve on others.
"After naming all proprietors of the town, liable to fence the common 'Pasturing Fields,' placing one column on the side of Widow Bakers and one on the side of Widow Mulford. At a meeting of the Trustees, being legally met, April 12, 1689:
'It was Ordered by ye s'd Trustees, do cause their proportion in the above s'd Fence to be sett up fourthwith; so that the said Widows may be preserved from Damages coming throw any neglect therein; except no favors than the Law will allow each man yr neglect his Duty herein, VIS:

'To have it sett up for him, he to pay double vallu thereof, to him that shall sett up the same. The above s'd fourthwith is allowed till Wednesday night, next insuing hereof, and not farther.'
"Every State, almost every farm has had its boundary disputes and questions raised, we find that during the first half century from the settlement of the Town, violent disputes was at different times carried on, in reference to the Division-Line between the towns of East-Hampton and Southampton, neither would concede. This contest was finally settled on the 25th of June, 1695, by men chosen from the two towns; and a highway, one rod each side of the line was laid out. Their decision remains of record.
"It is impossible to give, with any degree of exactness, the amount of wealth, or the number of inhabitants within the bounds of this town, for the first half century of its existence. Sufficient evidence, however, remains to show that at an early day the town was among the most wealthy, thickly settled and powerful in the state.
"At a very early period emigration commenced from all parts of Long-Island to the colonies. In Governor Hunter's letter to the Board of Trade, April 1716, he remarked: "I cannot say that the inhabitants increased in proportion, (at least), as they do in the neighboring provinces, where the purchase of land are easier had than with us."
"Suffolk County, for a long period of time, remained the fourth and fifth county in the state in population. The population of East-Hampton at one time was probably at least one fourth to one fifth of Suffolk County.
"The following memoranda taken from the Town Records, may throw more light upon the subject:
'February 17th, 1703. - 56 pounds, 15s. 0d. was p'd, being East-Hampton quoto of 270 pounds, which the County of Suffolk was rated att, as their proportion of 1800 pounds tax laid by the last Gen'l Assembly, upon the whole Providence, for securing the Frontier. - Fauconniere Com'r.'
"It will be seen that Suffolk County paid over one seventh of the whole tax of the state at that time, and East-Hampton more than one fifth part of the tax of the whole County of Suffolk. According to the rate list of the town, made in 1683, it appears that there were 71 taxable inhabitants, exclusive of the minister. At that time the town had a population of at least 350 and was rapidly increasing.
SEPTEMBER YE 8TH, 1683 - THE ESTATE OF EAST-HAMPTON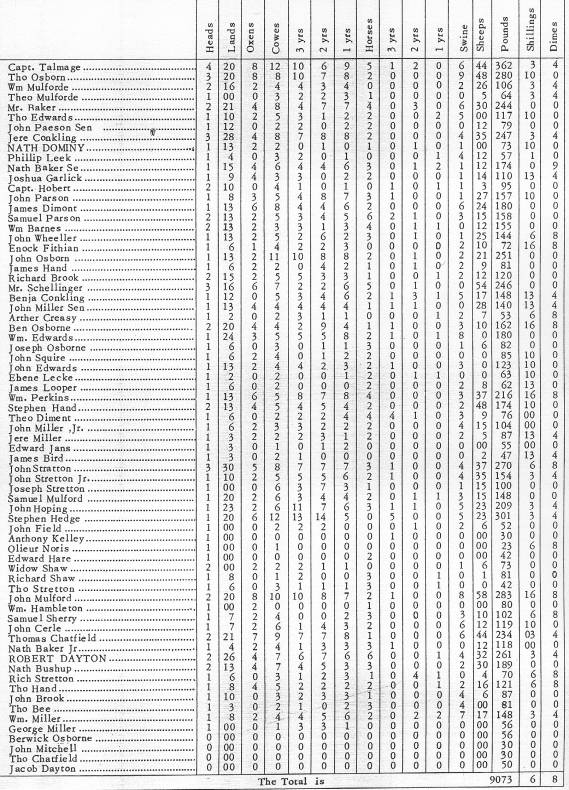 Endorsed, East Hampton Estimations 1683.
"Sequestered from the rest of the world. To a great extent shut our from its intercourse, uninfluenced by fashions, to a great degree unruffled by its passions, a race of free men hardy, contemplative, intelligent, yet retaining the manners, language, dress and appearance of their ancestors, untarnished, unaltered, uncorrupted, for more than a century; but the frankness, intelligence, and noble bearing freemen, dignified by their gigantic forms. Their ignorance of the passing customs might sometimes render it difficult to repress a smile, while their sterling puslities of head and heart would ever redeem them from contempt.
"At the very commencement of the Revolutionary War, this town sent her pledge to abide by the cause and interests of their countrymen. The Boston Port Bill was passed in March 1774. With reference to it we find the following
'At a meeting of the inhabitants of East-Hampton, legally warned by the Trustees, June 17th, 1774; Ebenezer Miller, Esq., Moderator. FIRST VOTED, That we will, to the utmost of our ability, assert, and in a Iawfull manner, defend the liberties and immunities of British America. That we will cooperate with our Brethern in the Colony in such as shall appear best adopted to save us from the burden we fear, and in a measure already feel, from the principles adopted by the British Parliment, respecting the Town of Boston in Particular, and the British Colonies in North America in General. SECOND VOTED, That a non-importation agreement through the Colonies is the most likely means to save us from the present arid future trouble. THIRD VOTED, That John Chatfield, Esq., Col. Abm. Gardner, Burnett Miller, Stephen Hedges, Tho's Wickham, Esq., John Gardner, Esq., and David Miller be a Standing Committee for keeping up a correspondence with the City of New York, and the Towns of this Colony, and if there is occasion, with other Colonies; and that they transmit a copy of these votes to the committee of Correspondence for the City of New York.

Voted, UNANIMOUSLY, NOT ONE DISSENDING VOICE. BURNT MILLER, Town Clerk.

(Adopted by the Freemen, Freeholders, and inhabitants of the city and county of New York, on Saturday, the 29th day of April, 1775, and transmitted for signing to all the Counties and Province.)

"Persuaded that the Salvation of the Rights and Liberties of America, depends, under God, on the firm union of its inhabitants, in a vigorous prosecution of the measures necessary for its safety; and convinced of the necessity of preventing the Anarchy and confusion, which attend the dissolution of the power of Government, We, the Freemen, Freeholders, and Inhabitants of, being greatly alarmed at the avowed design of the Ministery, to raise Revinue in America, and shocked by the bloody scene now acting in the Massachusetts Bay, do, in the most Solumn manner never to become Slaves, and do associates under all ties of Religion, Honor and Love to our Country, to adopt, and endeavor to carry into execution whatever measures may be recommended by the Continental Congress, or resolved upon by our Provincial Convention, for the purpose of preserving our Constitution, and opposing the execution of the several arbitrary and oppressing acts of the British Parliment, until reconcilliation, between Great Britton and America, on Constitutional Principles, (which we most ardent desire) can be obtained; and that we will in all things follow the advice of our General Committee, respecting the purpose aforesaid, the preservation of Peace and Good Order, and the safety of individuals and private property."

"SIGNED IN EAST HAMPTON, SUFFOLK COUNTY, NEW YORK.- John Chatfield, Abraham Gardner, Burnet Miller, David Mulford, Thomas Wickharn, Stephen Hedges, John Gardner, Samuel Buel, John Hudson, Nathaniel Hurting, Ebeazer Miller, JEREMIAH DAYTON, Thomas Dibbles, Noah Barnes, Lemuel Mulford,

Jeremiah Gardner, John Davies, Aaron Isaaca, Daniel Conklin, Elisah Davies, Jacob Wickham, John F. Chacelin, William Conklin, Nathan Conklin, Thomas Hedges, John Parson 3d, William Hutting, John Mulford, Seth Pike, Samuel Hunt, Jeremiah Bennet, Elis Conkling, John How, Jeremiah Conkling, Abraham Mulford, Samuel Parson, Benjamine Strutton, David Osborne, Elisha Mulford, Daniel Hand, David Mulford, Mathew Mulford, John Miller, John Dayton, Joseph Osborn, Jr., Ebenezer Conkling, Abraham Barnes, Henry Chatfield, John Miller Jr., Patrick Goold, Seth Barnes, David Talmadge, Jason Miller, Simon Dibble, William Mulford, Aaron Isaacs Jr., Gordon Miller, Jeremiah Sherril, Elisha Jones, Abraham Serrill, Samuel Stratten, Hutting Miller, Thomas Jones, Recompence Serrill, Enos Talmage, Lewis Chatfield, John Stratton, Stephen Hand, John Dayton, Daniel Hedges, Jonathan Barnby, William Conkling Jr., David Dayton, David Miller, Henry Hopping, John Strong, Nathaniel Talmadge, Joseph Hopping, Josiah Osborne, Jeremiah Miller Jr., Isaac Dimon, Abraham Dimon, Cornelius Osborne, William Hedges, Elisha Talmadge, George Gladden, Abraham Hand, Stephen Stratten, Thomas Osborne, Jeremiah Osborne Jr., Jonathan Mulford, Isaac M. Huntting, James Hand, Jeremiah Talmadge, Jeremiah Miller, George Strong, Lewis Osborne, Joseph Osborne, William Hedges, Jr., David Edwards, Ezekil Mulford, Cornelius Paine, David Fithiain, Samuel Conkling, Thomas Baker, Isaac Van Scoy, Isaac Van Scoy Jr., Nathaniel Hand, Philetus Osborne, Mathew Barnes, Perry Parsons, William Parsons, Joseph Osborne, John Parsons, Jonathan Osborne, Jeremiah Conkling, Samuel Conkling, John Mulford, Jonathan Tuthill, Jessie Dayton, Jacob Dayton, Jeremiah Parsons, Mulford Conkling, Matthew Stratton, David Loper, Abraham Mulford, Ebeazer Hedges, Joseph Miller, Samuell Sherrill, Samuel Parsons, Abraham Edwards, Isaac Pain, David Leek, HENRY DOMINY, NATHANIEL DOMINY JR., JEREMIAH DAYTON JR., BENJAMINE EYERS, NATHANIEL DOMINY, Benjamine Parsons, Jacob Conkling, Chris Dibble, Jacob Conkling, Samuel Gardner, Abraham Leek, Samuel Dayton, Uriah Miller, Nathan Miller, Jeremiah Conkling, Abraham Schellinger, Nathaniel Baker, Jeremiah Conkling, Zubulon Conkling, Isaac Conkling, Jonathan Edwards, Abraham Loper, Philip Hedges, George Miller, Thomas Edwards Jr., Elias Mulford, Edward Conkling, Joediah Conkling, Joseph Hicks, Zachariah Hicks, Daniel Baker, Isaac Schellinger, Abraham Baker, Nathaniel Mulford, Jacob Hedges, Jeremiah Barnes, Jeremiah Sherrill, John Gardner Jr., Aaron Fithian, David Talmadge Jr., David Miller, Nathan Conkling 3rd, Elnathan Parsons, Cornelius Bassett, Pleg Miller, Elisha Miller, Daniel King, Daniel Edwards, Nathan Miller, Stephen Burnet, James Field, Samuel Mulford, Benjamine Conkling, Gamaliel Bennett, Seth Parsons, Richard King, Mulford Conkling, William Bassett, Ezekiel Miller, David Loper, John Huntting, Abraham Quaw, John King, Smith Osborne, Ichabold Rayner, Abraham Miller, Jonathan Miller, Samuel Mulford, Ezekiel Jones, Ezekiel Jones Jr., Nathan Conkling, Daniel Loper, Jeremiah Loper, David Edwards Jr., Edward Bennet, Ludlam Parsons, Joshua Mulford, John Parsons, Elisha Mulford Jr., Stephen Russell, Thomas Talmage, Jeremiah Hedges, Jeremiah Osborne, John Hedges, Samuel Hutchinson, Jacob Miller, Henry Miller, Ezekiel Hand, Abraham Conkling, Elisah Osborne, Mathew Osborne, Jedeth Osborne, Jacob Osborne, Jonathan Squire, Benjamine Hopping, Jeremiah Hand, Abraham Osborn, John Talmadge, Henry Hopping, Elisa Hand, Zebedee Osborne, HENRY DAYTON, John Parson, John Parsons, John Stratton, Jacob Sherrill, Samuel Baker, Miach Hart, Benjamine Leek, Abraham Hedges, Jacob Osborne, Jonathan Schellinger, Thomas Edwards, David Baker, Sineus Conkling, James Loper, Stephen Cooper Jr., Benjamine Hedges, John Parsons Jr., Edward Wick, Jeremiah Terry, William Barnes, Ananias Miller, Thomas Filer, John Hoox. "These may certify that every male in the Town of East-Hampton, have signed the above ASSOCIATION, that are capable of bearing Arms." By Order of the Committee. Dated-June 17, 1775. JOHN CHATFIELD, Chairman
"John Lyon Gardner, in his memoranda, under date of June 15th, 1794, the following amusing incidents are related.
'Mrs. Miller, my overseer's mother, about 78 years old, was a Hedges, lived at Montauk, could speak Indian.

'Mrs. Miller remembered well when they first began to drink tea on the east end of Long Island. She tells a number of curious stories about their manner of using it. One family boiled it in a pot and ate it like samp-porridge. Another spread the leaves on his bread and butter, and bragged of his eating a pound at a meal, to his neighbors, who informed him as to how long a pound of tea would last, if rightly used.

'She also remembered the first tea-kettle that was in East Hampton. It came ashore at Montonk on a ship, (the Captain Bell). The farmers came down on business, could not find out the use of the tea-kettle, which was then brought up to old "Governor Hedges." At length one, more knowing than his neighbors, affirmed it was the ship lamp, to which they all aserted.'
"East-Hampton at the commencement and during the continuance of the Revolutionary War, the entire and united devotion of her inhabitants to their country's cause.
"Their union in expressing their sympathy with their brethern of Boston, in the adoption of a resolution of meeting held June 17th, 1774, has been noticed. About a year thereafter the "ASSOCIATION" suggested by the Continental Congress, to them for signatures, they came forward in a body, without a solitary exception. This association was delivered into Congress about or on the 22nd day of June 1775, and was signed by John Chatfield, chairman, with Col. Abraham Gardner, Burnet Miller, Rev. Samuel Buell, Thomas Wickham, all members of the first Congress, and two hundred and fifty-eight others, being all male inhabitants capable of bearing arms. A rare, perhaps unparallelled instance, of unanimity and devotion to the cause of Liberty.
"After the battle of Long Island, the inhabitants as had endangered their safety by their devotion and prominence in the cause of Liberty, could command means, as well as others, left for Connecticut and less exposed parts of the Colonies.
"Burnet Miller, retired within the American Lines, representing his country in the Assembly during the war. Thomas Wickham, member of the Provincial Congress, went to Connecticut, from where he waged war on the enemy as a privateer, in command of a sloop of eight guns and succeeded in taking several prizes. Major Davis and Capt. Grinnell, who also had removed, in consequence of their previous activity and zeal, were in command of two boats.
"Unfortunately the boats were driven ashore, Major Davis and twenty other light horses were taken prisoner. An attempt was made to fire the boats, but wickham succeeded in driving them off. Major Davis was taken to New York where he died. Tradition has it he died of poison administered in his chocolate.
"A division of the British Army was established here. For a time the Tory Governor, Tryon, and his quarters here. An attempt was made to establish the Royal Government, by an officer who held a commission under the King. In East-Hampton it was found that none were willing to act under the Royal authority and Col. Gardner was put under arrest, and threatened with Martial Law for refusing to all-out the Militia.
"The people were called out by order from headquarters to assembly, and take the oath of allegiance. A few only obeyed, among those one Bennet was told by the officer to repeat after him what he should say.
'Instead of proceeding with the oath, the officer gave further orders respecting it, which Bennet repeated. The officer explained, and Bennet repeated the explanation. The officer denounced his stupidity, Bennet repeating the abuse with undisturbed gravity was turned away a fool. The ridicule this conduct cast upon the proceeding, put an end to it. The oath was avoided, and the meeting was dispersed; the folly of resorting to forcible measures, which were opposed, the British made little effort to secure the alliance, or subdue the spirit of the people.'
''Under Major Cockron, a detachment of the British forces was stationed at Sag-Harbor. The country still abounds with tradition of his surpassing brutality and cruelty. There were many instances of his injustices and mercilessness, uncalled for punishment.
"The inhabitants of East-Hampton felt the lash of his orders, by the very hand of this ruthless foe. They were called at unseasonable times to come with their teams to do service for the British Army. Provision and cattle was taken, supplies levied, often the beast of the plow was slain for subsistance of the army, and the owners suffered from the losses.
"One memorable instance is related in which the fury of Cockrane's temper met with a will as strong as his own. A vessel had been cast upon the shore east of Amagansett, laden with supplies for the British Army. As usual, the inhabitants were ordered out with their teams to cart the provisions to the army's quarters. Major Cockran appears to have had an oversight. There was a certain number of barrels, each team took its assigned load; but on the last load it was found that there remained one more barrel than the other teams had taken.
"This load fell to the lot of Jedediah Conkling, a man of small stature but unflinching courage. Conkling took the usual load, left the solitary barrel, was proceeding on his way when he was stopped by Cockrane, ordered to take the remaining barrel on his cart. Conkling refused. Cockrane reiterated his order, told Conkling HE SHOULD TAKE IT. Conkling declared he WOULD NOT. Each affirmed his decision with an oath. Cockrane threatened. Conkling defied. The one approached with his sword waving; the other erect upon his cart, brandishing his long ox-goad. Cockrane threatened to strike him dead. Conkling declared that he would kill him with his goad if he dared approach.
"The British Major finally yielded, the teamster passed on his way. It is said, as they passed through East-Hampton, the company stopped at the tavern of Nathaniel Huntting; Cockrane said that Conkling was a man of the most courage he had ever met with on the Island, requested of him the favor of drinking with him, to which the incensed Yankee replied, that he would not drink to save his life.
'The unfortunate Major Ander was for several weeks a guest guartered at the home of Col. Gardner. His gentlemanly deportment and generous feeling wone the esteme of the family. His son Dr. Nathaniel Gardner was a surgeon in the Northern Division of the American Army during the war.

'He was on a visit to his father at that time, came without being recognized through the British lines, was liable to be seized as a Spy, the family took every precaution to conceal his presence, Ander was not without knowledge of it. He forebore, however, any allusion to it, expressed his regrets that their relative situation prevented him from an interview.

'Ander afterward went to New York, and his unfortunate fate is well known. During the night proceeding his untimely death, the young Surgeon, whom he had thus encountered, enjoyed by a strange coincidence, and in the capacity of an enemy, the melancholy pleasure of his society. He left with the family several memorials of friendship.'
"Although the people suffered from their firm stand, and for them ill timed, exactions, it appears that more or less friendly intercourse was kept up between the officers of the British Army and the citizens of the town. Sir William Erskine, commander-in-chief of the British forces of the east end of the Island, and there have been particularly pleased with the society of Dr. Buell, their minister, and to some extent, to have yielded to the Doctor's wishes.
"It is related on one occasion Erskine had ordered the people of East-Hampton to appear with their teams at Southampton on the Sabbath. On the preceding Saturday, Erskine and the Doctor met, when Erskine stated to him that he had ordered his people to be at Southampton with their teams on the Sabbath, the Doctor replied, "I am aware of it, but am myself COMMANDER-IN-CHIEF on that day and have annulled the order." It is said that Erskine yielded, and revoked the order.
"In the sport of the chase, Dr. Buell often joined the officers of the army, and on one occasion, being late, the party despairing of his arrival had mounted, when he appeared in sight. Sir William Erskine, perceiving his approach, ordered them to dismount and receive his friend. Lord Percy, afterwards Duke of Northumberland, and then Aide-de-Camp, while impatiently pacing the floor, was introduced to the Doctor, who asked him what portion of his Majesty's forces he had the honor to command, (who was in an ill humor on account of the order to dismount) replyed, 'A Legion of Devils just from Hell.' 'Then,' said Dr. Buell, with a low obeisance, 'I suppose I have the honor to address Beelzebub, the Prince of Devils.'
"The severity of the repartee caused Percy to put his hand upon his sword, which was instantly rebuked by Sir William, and the attention and politeness of the Parson won for him the admiration of Percy, long before the chase was over.
"After the Revolution, amid the rapid increase of population, and swelling tide of emigration, this ancient settlement became comparatively of much less importance.
"Amid the change of time, few villages have retained their external appearance more perfectly than East-Hampton. The approaching traveler is still impressed with its air of quiet and repose - of venerable age and stability. The same windmills, which for centuries have swung their arms to the breeze, labored for the sustenance of man, still carry on their work.
"The same street, which was laid out two hundred years since, preserves its beautiful and spacious bounds. The same houses which in days of yore stood upon its borders, running back with long, low roofs, are now to be seen. The same venerable churchyard, where reposes the moulded dust of the early settlers, now receives the remains of their descendents. The same church, a monument of the past, is unshaken and undecayed solidity.
"The same bell, which in 1725 first pealed its melodious notes, still summons the people to the sanctuary, and pours its rich and melancholy music over the departed. And the same clock which from the church tower, for one hundred and fifty years has kept its watch over the days and hours, still gives its solemn monitious of the flight of rime.
"Venerable peaceful, quiet East-Hampton. It lives in the affection of thy absent children. Far upon the boundless deeps, recollections of their home awake in the hearts of thy roving sons. Far in the Western wilds, thy Sons and daughters cherish the memory of their ancient, hallowed abode. But flow ye on in the even tenor of your way, undisturbed by agitation - serenely launch your little bark upon the illimitable ocean of Eternity when the river of Time has ceased to flow.
JOHN LYON GARDNER
"Some of the first and heaviest blows struck in the war of our Independence, fell upon this town.
'Whilst the British were at Boston, their vessels occasionally carried off our stock from Suffolk County.'

The Journals of the Provincial Congress contain the following;

'July 5th, 1775. - The people of East and South Hampton pray Congress that Captain Hulbert's company, now raising for Schuyler's army may remain to guard the Stock on the common Lands of Montauk, (2,000 cattle and 4,000 sheep) from the ravages of the enemy.' - (Journal 75)
"July 31st, 1775. - Congress allowed Griffin and Hulbert's companies to remain to guard the Stock." - (Journal 95)
"It appears from the Journal and correspondence of Captain Hulbert, that his Company was stationed at Shagwonnuck-that they were supplied with arms, ammunition and provisions by the people of the town, through Burnet Miller and Stephen Hedges, their committee-and that on the 7th day of September 1775, the company marched off to Montauk, and Hulbert and his men were supplied with guns and ammunition; and were afterward stationed at Fort Constitution.
"April 3rd, 1776. - In consideration of the defenseless state of East part of Suffolk County, 3 companies raised for Continental service were continued there."
"The return of Colonel Smith's Regiment, May 30th, 1776, shows Ezekiel Mulford, captain of a company of 40 privates, "complete in arms." Another account is as follows:
"12th, Company, Captain Ezekiel Mulford; 1st Lutenent Sayre; 2nd Lutenent Nathaniel Hand; Sergents H.. DOMINI, and M. Mulford; Corporals, Henry Sherrel, Benj. Crook, Ludlum Parson."
"As early as the Spring of 1776, an invasion of the British forces upon New York City had been anticipated. The fate of Long Island was readily seen to be linked with that of the city. Remote, exposed, defenseless, save by their own strong arms, East-Hampton had her full proportion of minute men in the field.
"The Battle of Long-Island was fought August 26th, 1776, and the whole extent came under the control of the British forces. Those forces, in part, made the east end of the island their winter quarters, and levied their supplies upon the country.
"There are now, even a few venerable, living veterans, who remember the suffering's, the scenes of robbery and violence, which were perpetrated by the enemy, and endured by the inhabitants. Remember how the pulse beat high and joyful at the news of Burgoyne's defeat -remember the lively, heartfelt sympathy with their brethern in the field.
"It was not until the 25th of November 1783, that the British troops evacuated New York City. During all this seven years the Island groaned under the oppressive occupation of their soil by the hostile invader.
"Their circumstances exposed them, however, to suffering and outrages from both parties. Their forced submission to the Royal Army (their misfortune, not their fault,) caused them to be viewed with suspicion by their brethern upon the continent, and often invited parties of plunder from that quarter. Multitudes fled for shelter and protection to Connecticut shores.
"I find this memorandum:
"September 15, 1776. - Whereas at Sag-Harbor crowded with emigrants."
"Dr. Buell writes from East-Hampton, September 22nd, 1776, that the people are as a torch on fire at both ends, which will speedly be consumed, for the Continental Whigs carry off their stock and produce, and the British punish them for allowing it to go, - hopes the Whigs will not oppress the oppressed, but let the stock alone."
I will insert a little incident, to substantiate the above, (which I hate to relate, it happened in our family) concerning one Nathaniel Dominy.
"A soldier, by permission, was carring a white bag under his arm, of peaches, from Mrs. Huntting's orchard, when seen, Nathaniel Dominy supposing he had a white goose, fired, and killed him. Dominy determined to stand trial, - but concerning his innocence, through advice, fled. - to parts unknown."
"The history of the seven year's suffering will never be told. Philosophy has no adequate remedy for silent, unknown, unpitied suffering. Man may brave every Danger and endure every evil, if human sympathy be administered to him in life, human immorality and applause crown his tomb. But the display of passive virtues is a sublimer field- a spiritual elevation above our sphere. It rises into being only when upheld by the Divinity; and His aid withdrawn, we fall.
"Throughout this period, it is not known that a single Tory lived in the bounds of the town.
"Left to the tender mercies of the foe; plundered by countrymen and stranger, of their property and ripened harvest: robbed of the stores which they had reaped and gathered; slandered by suspicious brethern; taunted and scoffed at by the mercenary victors, they never waivered. Their hearts were in their country's cause; and in the memorable language of their great compatriot, "Sink or swim, live or die, survive or perish," they were true to their country. Unterrified, Unalterable, devoted Americans.
"The events of that memorable struggle are fast becoming matter of tradition only. But tradition has still her unrecorded events We might tell how, often and again our fathers, pressed, insulted, attacked by the presumptuous foe, felt their blood boil within them, and endure until human nature could stand no more, turned with club or pitchfork upon the sword of the invader, and drove him from their sight.
"In their difficulties Dr. Buell, their minister, did not abandon them His talent, integrity, wit and mingled prudence and firmness, often averted threatened perils, and rendered important service to his people.
"Tradition has, however, handed down no name more illustrious than that of Captain JOHN DAYTON, (our beloved Patriot) a linial descendent of RALPH, the first settler of that name. Captain Dayton was one of natures uneducated heroes; reckless, daring, shrewdly sanguine, he often succeeded when others dared not hope. His lonely dwelling, two miles west of town, was an inviting location for the misceant and coward attack or plunder. His house was several times beset.
"It was once attacked in the night by the enemy, and while he was in the act of lighting a candle, a musket was discharged at him. This was no time for hesitation; the ball missed him and passed in the beam of his weaver's loom. Putting his son (Josiah) out of the back door, in the midst of a deep snow, and directing him to flee for shelter and safety, he snatched that long, famous, deadly CARBINE of his from its resting place, sallied out of the house, returned the enemy's fire, and withdrew in the house. He immediately began to call all imaginary names, as if he had a regiment of assistants sleeping in his chamber - loudly daring the British, meanwhile to come on. The shots or the deception, or perhaps both, were successful. The enemy retired and left the mark of blood on the snow behind them.
"The next day the Captain, while in the yard, was visited by the officer of the regiment. The officer leaped his horse astride him - brandishing his cutlass - loaded the Captain with abuse, and threatened to slay him for killing one of his men. To use the Captain's own language, as in after years he related it, "His blood boiled within him, and his hair stood on end." Discovering a pitchfork near, he sprang for it, faced his adversary, brandishing his rustic weapon, and ordered him to "be off." It needed no second command. The horse bounded with his rider over the pickets, and left the hero master of the field.
"We cannot forbear relating one other incident equally characteristic. The British fleet anchored off Nontauk. It was supposed that they were about to land there and seize the hordes of cattle and sheep which were there pastured and fatted.
"The captain thought he could prevent their landing, and save the cattle and sheep. He offered to lead forty of his neighbors if so many would go, and save the flocks. Forty volunteered to accompany the Captain, and they marched on to Montauk. He selected a hill, marching over it at the head of his company - descended into a hollow, where he was out of sight of the fleet. Shifting the position of his men, and each exchanging his coat, he again led them back, through the hollow, unobserved by the fleet, to the starting place and over the hill; and thus the company continued their march over and around the hill. The maneuver was calculated to produce the impression upon the fleet that a large army was marching and encamping in the valley below. Whether this strategy was the cause or not, the result was that the British did not land and the flocks were saved from ravish. This venerable chieftain and mighty hunter died in 1825, at the age of 98 years.
"The war of the Revolution left the town like the rest of the country, worse in morals, wasted in property; burdened in national debts, and groaning under taxes.
"Agriculture had declined; commerce had been ruined; estates swept away; and the first thrilling, triumphant transport of a free, victorious people were over, they wept at the surrounding desolation. But the spirit that had stood the test of war and conquest was not the spirit to fail in the art of peace.
"By degrees prosperity returned; commerce and agriculture flourished; education revived, within a year after the British evacuated New York, Clinton Academy was erected, being the first chartered Academy in the state.
"We feel that we are trespassing upon time and patience; however pleasing it might have been, we must break off these reminiscences. We have been compelled to omit much that is interesting, much that is a thorough knowledge of the character of our ancestors.
"We could not describe, even briefly, the Maidstone they left, and the river Medray, upon the grassy banks of which they sported. We intended to relate more minutely the origin and nature of the early controversies of the Puritans in their native country. We had designed to vindicate their laws from the slander of many prejudiced historians and writers - to have shown more fully with what wisdom they laid the foundation of a free and equitable jurisprudence.
"How many of us think, unskilled in the practice and unstudied in the law, would in our day frame a better or wiser code than they? We had intended to have shown how (imperfect as they were) they stood upon an intellectual eminence, head and shoulders above the rest of the world in the knowledge of the principles of a free government.
"The question is not whether their laws and simple machinery of government is applicable to us. Was it a wise system for them? We doubt whether up to their day in this world's history any community had ever enacted laws more appropriate or established a government better suited to their wants, wishes and welfare, than were theirs to them.
"We doubt whether any courts ever worked better or dispensed more impartial justice or rendered more suitable redress than theirs.
"We have heard of "illiberality," of "canning Hypocrisy," of "narrow-minded bigotry," of "blue laws," and "Salem witch-craft," and a thousand other flings and sneers at the honest old
PURITANS of this country, until by the constant repetition of the faults which the PURITANS shared in common with their opponents of that day, and by the imputation of many which they never had, many a weak minded man has been ashamed of those worthy ancestors who founded the institutions which secure us our political and religious freedom.
"Let England thank God that the PURITANS lived - thank the PURITANS under God for many of the free principles which were engrafted in our constitution.
"Let America own them as the fathers of education, piety, and freedom. We might have told how from time immemorial until within the last century the simple manners of the early planters of this colony remained unimpaired.
"We might have told how regularly Monday morning was devoted by the matrons to washing, and how with equal regularity Monday afternoon was devoted to social visits. If it was so, is there anything particularly sinful or ludicrous in the order and method?
"We are aware that there is a sickly, silly sentimentality aflote, which looks with conceited contempt upon everything connected with PURITANISM. We well know how much wiser some of their descendents feel themselves to be than their PURITAN ancestors were.
"It may have been that their broad backs and stiff knees bent with less grace and pliancy than ours of the mandate of human custom. It may have been that their code of etiquette was a little more stiff and stern than ours. Perhaps their coats were more for use and less for show; perhaps they were broader in some places, and coarser and plainer than ours.
"But those same queer old men and women in their antique apparel built America. They cleared her forests; exterminated her wild beasts; founded schools and colleges; fought the Revolution; established the Republic; framed the best Government under Heaven for a free people, and transmitted those immunities and institutions unsullied and unimpared to their descendents.
"We are bound to maintain and defend our institutions and privilages, our invaluable inheritance; so are we bound to honor and defend whatever was high and manly in their character, and cherish with a filial tenderness their fame and memory.
"While we are reminded by the crumbled dust of former generations, that we hold our existances by the frailest tenure, and that we too shall soon pass away from this stage of living action, and our departed dust will mingle with theirs.
"Well may we lay the passions, the prejudices and selfishness of our nature by the tomb of our ancestors. We may there learn the lessons of a high and holy patriotism - of a purer and more elevated piety.
"We feel our souls kindle in generous emulation of their example. We feel our relation to the venerable past, to the pious dead. We contemplate our connection as one of the links that stretch along the chain of the boundless future.
"They lived when this world's bright but transient morn began. In that long night of wretchedness which followed, they lived. They lived when Caesar stormed the Northern Isles, they met him like heroes on the very shore. They fought at Hastings when the invaders wrenched their dearest liberties and rights.
"Our posterity; they will extend through all coming time. But our children that rise up after us, we trust will rejoice and pay tribute to our memory and the memory of those who have long since passed away. Changes will come - kingdoms and nations be overturned - and yet the waves of successive generations will rise and roll onward, until the winding up of this world's affairs.
"Matrons and Maidens: - Worthy were your mothers of their noble partners in the vicissitudes and perils of their early career - meet help in laying the foundation of learning, liberty and morals - fit in rearing the finished and tasteful superstructures.
"We admire their courage, their constancy, their devotion. Tradition has told us of their simple habits, their pure desire. Despise not ye their bright example. What though the fashion of their day has passed away - what though we smile at the antiquated equipment and costume of their time. The fashion and paraphernalia of our day will also soon be past forever.
"The attire of the living will be put off, and the habiliment of the dead will enclose our dust; and in your turn ye will be the departed mothers of future generations - so live that the grace and simple habits and worthy pursuits of the early mothers shall survive and adorn the life of their descendants.
"We have recounted their deeds - we have lived in the historic remembrances of the past -we have traced the origin of this early settlement - we have seen the deep foundation of permanency, prosperity and peace, in the life and habit of this PILGRIM band.
"That ardent, patriotic fire burned in as bright a flame the first three and a half centuries in the breast of their descendents. That spirit assisted in rearing the imposing edifices of our National Liberty. It built our Academic Halls - illustrious as the first that flourished with a chartered life within the confines of our State - proud and thrice happy in the annuals cohorts that it dismissed with its parting blessing, adorn the land.
"Still longer do we love to linger around the remembrances of the past. Their memory lives! Their deeds survive! Their labors speak their fame. Their institutions, founded in toil and built in sacrifices, are the inheritance of our descendents.
"They speak to us - "For you we did maintain our birthright and our liberties. For you we raised the Halls of science and learning; enlarged its walls; adorned its portals, filled it alcoves."
"For you we raised a holy church to the High King-that church, the best church, maintain. Fulfill our mission on the earth; live for the world as we have lived; live for the boundless future. Beyond this day, this present fleeting day, will generations rise; they will feel your impress; they are moulded by your character; they are destined to move onward as your impulses have directed them.
"Live then as men, as patriots, and as Christians. Leave the impress and memory of your noble efforts with your posterity, and join us in His good time, in our promised and everlasting Home."
THE DOMINY FAMILY, although not listed of the first settlers, were very early residents of East Hampton.
1st. Nathaniel Dominy, 2nd. Nathaniel Dominy, 3rd. Nathaniel Dominy, 4th. Nathaniel Dominy, 5th. Nathaniel Dominy, 6th. Felix Dominy, 7th. Nathaniel Dominy, 8th. Nathaniel Dominy, 9th. Nathaniel M.Dominy.
2nd. NATHANIEL DOMINY, was born at East Hampton, July 14th, 1684. Died, May 5th, 1768, in the 84th year of his age. He married ANNA COREY, November 24th, 1706.
THE DAYTON FAMILY are allied to the distinguished men of that name, from East Hampton. They came before 1700. Branches of this ancient stock are to be found in Ohio, and most every state in the Union.
The line of the first settlers is as follows: 1st. Ralph Dayton, 2nd. Robert Dayton, 3rd. Samuel Dayton, 4th. Daniel Dayton, 5th. Captain John Dayton, 6th. Jonathan Dayton, 7th. Daniel Dayton, 8th. Doctor Charles B. Dayton.
Another branch of Dayton's are descendents from one Robert Dayton, son of the first Ralph Dayton.
HENRY DOMINY 1st., son of Nathaniel Dominy 2nd., married November 4th, 1773, ELIZABETH DAYTON.